The Benefits of Remote Monitoring, Remote Programming & Predictive Maintenance
Remote monitoring, remote programming and predictive maintenance solutions deliver numerous benefits to end-users from reduced downtime and improved robot cell performance to supporting business continuity.
Intertwined with digital manufacturing, Industry 4.0 and IIoT concepts, these remote access systems and predictive maintenance tools empower end users and integrators by combining the digital and physical worlds in time and cost saving, disaster-averting, productivity-boosting ways.
Interest in these technologies was high pre-pandemic but surged because of it. Driven by social distancing restrictions, WFH directives, and widespread labor shortages, many facilities were forced to reconsider their robot maintenance and business continuity strategies.
In traditional automation setups, having fewer humans onsite means less effective robot performance monitoring and a reduced ability to quickly reprogram your robots whether during application changes or due to failure. Remote monitoring, remote programming and predictive maintenance solutions are designed to overcome challenges such as these.
The global production monitoring market is expected to grow from USD4.0 billion in 2018 to USD6.4 billion by 2023, at a compound annual growth rate (CAGR) of 9.8 percent, according to Markets and Markets.
It is estimated that unplanned downtime costs industrial manufacturers USD50 billion annually, with equipment failure accounting for 42 percent of this unplanned downtime. These unplanned outages can lead to unmanageable maintenance and repair costs.
In this post, we'll look at some of the key advantages provided by the systems designed to alleviate these problems, showcasing some examples of remote access and predictive maintenance solutions developed by A3 members along the way.
Note: While our focus here is on applications involving industrial robots, keep in mind that many of these systems can be used to monitor other machinery and devices.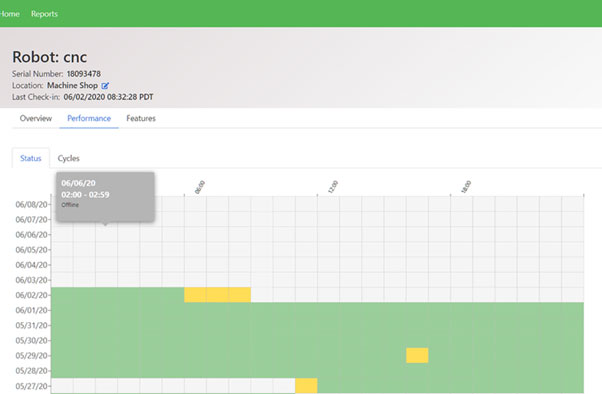 Sample of a production history chart generated by the Productive Analytics software. CREDIT: Productive Robotics
Remote monitoring
In the simplest terms, remote monitoring systems allow you to remotely check in on how your robot(s) are performing. Typically accessed via tablet, laptop, or smartphone remote monitoring tools allow you to gather information on your robot(s) performance and track key performance indicators (KPIs) such as uptime/downtime, and cycle time.
KPIs provide real-time and historical information related to robot performance. These powerful information resources can be used to direct changes within your robot cell/settings, with the aim of improving overall performance. This provides important business benefits such as increased productivity and throughput, enhanced quality, reduced downtime, and improved business continuity preparedness.
Additionally, if a robot fails for any reason, remote monitoring systems can be used to send out an immediate alert to key personnel. Given how expensive downtime is for manufacturers, the ability to identify sources of failure quickly is a major benefit of remote monitoring solutions.
In 2020, Productive Robotics, Inc., the CA-based designer and manufacturer of OB7 collaborative robots, unveiled 'Productive Analytics' – a cloud-based, real-time status monitoring system for OB7 cobots. Productive Analytics provides easy access to OB7 cobot operating status and production history, allowing users to optimize production, identify production errors, minimize downtime, and remotely monitor robot activity.
Remote Programming
Remote programming systems take your remote robot operating powers beyond monitoring and analytics by enabling you to program your robot(s) without having to be onsite. These powerful tools provide massive cost-savings. For example, they eliminate the need for an engineer to travel onsite every time a robot needs to be programmed. Remote programming systems also ensure a rapid response whenever a robots' programming needs to be tweaked.
Remote programming enables an engineer to monitor and program numerous robots from a single location, simplifying operations and creating new business opportunities for integrators too.
Predictive Maintenance
Predictive maintenance solutions are designed to identify when a robot or robot component is going to fail. This is in marked contrast to reactive maintenance, which only happens when a failure has already occurred.
The cost savings derived from predictive maintenance technologies are massive and include reduced downtime, improved equipment planning, and reduced Total Cost of Ownership. Valued at USD1.90 Billion in 2019, the predictive maintenance market is expected to reach USD21.20 Billion by the year 2027, at a CAGR of 28.9, according to a recent report from Reports and Data.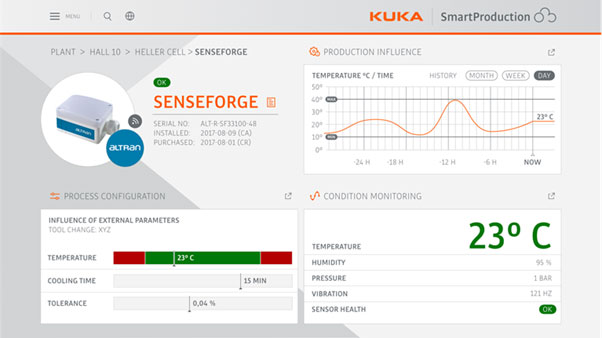 SmartProduction from KUKA provides a wealth of information that can be used to boost performance, increase equipment effectiveness, and predict when maintenance will be required. CREDIT: KUKA
KUKA's SmartProduction solution, for example, allows businesses to digitize entire cells and production lines. The software creates an interoperable network, in which micro services and big data can be combined to improve manufacturing efficiency, quality, and flexibility. SmartProduction makes key condition and performance information available via PC, notebook, or smartphone, eliminating the time and costs traditionally associated with maintenance processes.
Recent research from the Deloitte Analytics Institute reveals that the ability to predict failures via advanced analytics will, on average, increase productivity by 25 percent and equipment uptime by up to 20 percent, reduce breakdowns by 70 percent, and lower maintenance costs by 25 percent.
Further Reading:
Know before the cable breaks, (LAPP USA)
Getting Started with AI-Based Predictive Maintenance, A3 Archives