Robot Integrator Certification - What You Need to Know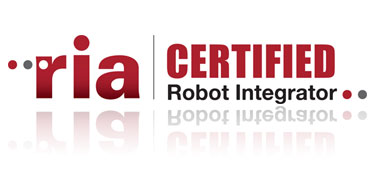 As robotics technologies become more complex and appear in innovative applications, it's essential for professionals to find trustworthy ways to verify their skills.
With the RIA's Certified Robot Integrator Program, businesses have a unique opportunity to demonstrate their cutting edge insight and dedication to the highest quality standards in the industry.
What is a Certified Robot Integrator?
Certified Robot Integrators are enterprises that have undergone an intensive certification process. This RIA credential is unique to robotics systems integration; it verifies that an organization meets strict criteria established by experts.
Organizations pursue the credential, established in 2012, to develop a competitive advantage and communicate value to clients. Once an organization achieves this qualification, it must recertify once every two years – ensuring that knowledge is always up to date.
Certified enterprises have many thought leadership and marketing opportunities that are not available elsewhere. They can effectively benchmark their practices against the highest standards in the industry, demonstrate unflagging commitment to quality, and advertise high-level expertise.
As more integrators enter the field, this credential – developed and managed by the world's top robotics association – is becoming crucial as a brand differentiator.
How Can Organizations Become Certified?
Robotics systems integrators in any industry may choose to pursue the credential. However, only the best integrators should expect to pass all the certification requirements on the first attempt.
RIA has developed the credential to test and expand integrators' organizational knowledge in multiple ways. This ensures that certified organizations have both broad and deep insight.
Certification requirements include:
An on-site inspection and audit of key processes;
Industry-specific safety training just for integrators;
Rigorous, hands-on testing of key staff members.

Recertifying organizations must conduct a detailed risk assessment of all robot installations conducted during the certified period. They may follow the guidelines laid out in RIA-15.06, ISO 10218 or CSA Z434 as appropriate.
Future compliance requirements will be announced as regulations continue to develop.
Why Should Businesses Use Certified Integrators?
Securing this challenging credential is evidence that an integrator is serious about exceptional performance, safety, reliability, and serviceability in its robotics systems. As the community of RIA Certified Robot Systems Integrators remains relatively small, only the best players in this competitive industry can claim this important achievement.