Industrial Automation: What it is and How it Will Evolve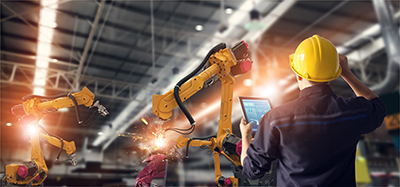 Industrial automation traces its roots back to the 1970s when the original distributed control system (DCS) was developed by a team of engineers at Honeywell. Once Dick Morley, an American mechanical engineer, developed the first programmable logic controller (PLC), several startups released human interface software to help add innovative automation solutions to a wide range of industries. While delving into the brief history of manufacturing application, it's important to note that some innovators get stuck in growth plateaus and others continue to generate success.
Industrial automation hasn't stopped evolving. New sensors, amplifiers, displays, controls, recorders, valves, actuators, and more are being released constantly. Many industrial automation manufacturers focus on niche applications, and most suppliers only recently have begun expanding products beyond their initial applications and local geographies.
What Is Industrial Automation?
Automation uses control systems to operate equipment such as machinery, networks, and navigation with little or no human involvement. Industrial automation is often accomplished by mechanical, hydraulic, and electronic systems. US car manufacturers have been early and heavy adopters of industrial robots, with General Motors being the first to establish an automation department.
Manufacturers use industrial robots and intelligent machines to care for various operations that require speed, stamina, and accuracy. Industrial automation can reduce energy usage, materials used, and labor waste. Industrial robots typically help perform long production runs for large manufacturers, but new capabilities may soon bring industrial automation to small and medium industries.
How Industrial Automation Will Evolve
Industrial robots now being developed and deployed will be multi-functional so that a single machine can be used for several different tasks. Industrial automation systems also will have the ability to make decisions and work autonomously without human help. This will allow humans to work in more rewarding jobs with more efficiency and productivity than before.
1. Low Maintenance
Manufacturers know downtime kills productivity, so they're putting pressure on engineers to make sure robots of the future will require less maintenance. New industrial robots will need to be easy to deploy, operate, and maintain as the majority of employees using these robots may be lacking programming and engineering skills.
2. More Intelligent
Breakthroughs in artificial intelligence will make robots smarter. Intelligent robots will be able to sense and predict changes and adjust on their own, and industrial robots will be able to solve more complex tasks without human input.
3. Highly-Connected
The concepts being developed by the Industry 4.0 revolution (referring to a new phase in Industrial Revolution that focuses on interconnectivity, machine learning, automation, and real-time data) include networked connections that will allow robots to collaborate, not only with humans, but with other industrial robots. Industrial automation will work with more synergy than ever before.
4. Human Safety
Robots are already being used in environments and processes that are dangerous for humans, but with human-robot collaboration set to increase, how they work together will be improved. Even mobile industrial robots will be able to detect and predict human behavior to increase safety in the workplace.