Certified Motion Control Professional
Strengthen your skills and enhance your career
Get high-quality, core motion control training and industry certification to prove your specialized technical knowledge.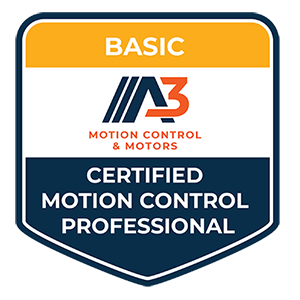 VIRTUAL EXAM PLATFORM SYSTEM REQUIREMENTS
We are using an exam platform by Mettl, a Mercer company. Here are the system requirements for successfully using the exam platform:
Network Speed

A stable internet connection is required. A proxy for this is if you are able to login into your email account(s) without difficulty

Upload Speed:
This is a webcam proctored test - Minimum speed => 512 kbps

Supported Browsers

| | |
| --- | --- |
| Browser | For Proctored Exam |
| Chrome version | 63 and above |
| Firefox version | 52 and above |
| Safari version | 12 and above |
Exams are NOT supported on Edge browsers
Exams are NOT supported on Mobile devices (including Cellphones / Smartphones / Pads / Tablets)
Firewall Settings

Grant necessary firewall permissions to allow all requests from all sub-domains of mettl.com

Browser Settings

Exams can be conducted with Pop-Up Blocker enabled and for most commonly used Browser Security Settings

System Settings

Mettl recommends you disable security patches, updates of the anti-virus definitions and/or application updates (manually) during the test in order to avoid any interference while taking the test

Text Expiry/Power Resume

In case the test window closes in the middle of the test or at the time of submission for any reason, the system waits for at least 20 minutes before expiring the test & generating the result report for that particular candidate.
This allows the candidate to re-login & resume the test from exactly where it stopped within those 20 minutes.

Support Information

In case of any issue kindly call Mettl support at +91 - 8287803040 or drop an email to

[email protected]

.
MORE TROUBLESHOOTING