Certified Motion Control Professional
Strengthen your skills and enhance your career
Get high-quality, core motion control training and industry certification to prove your specialized technical knowledge.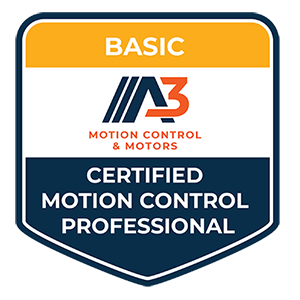 A3 is proud to have the finest minds in the industry teaching our Certified Motion Control Professional courses. They represent some of the leading companies in motion control. You'll get to learn directly from these experts and ask practical questions related to your particular challenges.

Mark Holcomb
Director of Product Management and Application Engineering
Genesis Robotics and Motion Technology
Mark Holcomb is the Director of Product Management and Application Engineering for Genesis Robotics and Motion Technology. He studied at the University of Buffalo (MS 1994) and began his professional career at CSA Engineering (now Moog) in Palo Alto, California. In 1997 Mark started his own consulting company, focusing on his work KLA, a leading semiconductor equipment manufacturer. While at KLA, Mark conducted model testing and servo loop modelling, tuning, and testing. Joining Celera Motion in 2015, his early work focused on writing software for motor analysis and automate testing of motors and mechatronics products. In 2018 he became Applications Engineering Manager, helping customers solve their motion control needs. In September of 2022, Mark joined Genesis Robotics and Motion Technology where he is supporting a team of product managers and applications engineers, setting product roadmaps and helping customers and sales with pre and post sales technical support.

Nate Holmes
Group Manager, Vision & Motion, Embedded Systems R&D
National Instruments
Nate Holmes is the R&D group manager for motion and vision product lines at National Instruments. Prior to joining R&D he spent time as a group manager and senior product manager in marketing for various embedded systems products including EtherCAT and Expansion I/O in addition to Motion and Vision. He joined National Instruments in 2007 as a member of the Application Engineering department where he worked as the Vision and Motion Team lead and was actively involved in supporting NI's efforts with FIRST robotics. Nate received his bachelor's degree in mechanical engineering from the University of Florida.

Keith Knight
Life Science Business Development Manager
Novanta IMS
Keith H. Knight is currently the Life Science Business Development Manager for Novanta IMS. In this role he has taken the lead on the technical direction for the division by combining market conditions with emerging technologies to prime the product development funnel. Prior to his current role, Keith held positions as the Product Manager, and Engineering Manager for HaydonKerk Motion Solutions and has spent his entire career in the arena of motion control. Prior to his professional career Keith graduated with honors from Wentworth Institute of Technology of Boston MA with a BS in Electromechanical Engineering.

Matt Pelletier
Product Training Engineer
Yaskawa America, Inc.
With a degree in Electrical Engineering from the University of Wisconsin - Madison, Matt Pelletier has been with Yaskawa America since 1999. Matt has worked extensively with Product Engineering to develop interactive hands-on training for Servo Tuning, IEC 61131, PLCopen, and advanced programming workshops for Rotary Knife applications and PackML. Matt has also created a library of training videos with hands-on access to remote servo and controller equipment. These courses are available free of charge on Yaskawa's website (www.yaskawa.com). Otherwise known as "Matt Servo", he is a specialist in the application of Yaskawa Servos and Motion Controllers in a variety of industries, authoring several articles in various publications.

Jim Wiley
Product Manager
Parker Hannifin
Jim Wiley is a Product Manager for servo and stepper drives with Parker Hannifin Corporation's Electromechanical and Drives Division, where he has spent his entire twenty-year motion control career. After graduating from Carnegie Mellon University with a Bachelor's degree in Mechanical Engineering, Jim joined Parker's Daedal Division as an engineer.