Thought Leaders in Automation
LEADING THE WAY IN INNOVATION
Learn from expert industry professionals and read their insight into the growth and opportunities in automation.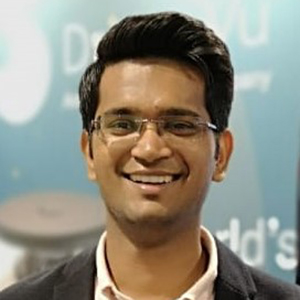 Rajat Aggarwal
Rajat completed his BS and MS at IIIT Hyderabad in 2017 with a specialization in computer vision and computational photography. His path-breaking research on computational cameras led to several publications and patents starting from his early undergraduate days. His publication in CVPR'16 was a breakthrough in the field of computational photography and eventually became the seed for DreamVu. A hardcore inventor at heart, Rajat is a true believer in the power of optics to solve some of the most trickiest challenges in sensing and perception for humans and machines.
QUESTION
Despite the pandemic, how has DreamVu succeeded in 2020? How is this success helping customers in their fields?
ANSWER
Increased demand and speedy delivery. We have all seen an increase in demand for robotics and automation, particularly in an autonomous mobile robot for warehouses, commercial cleaning and other healthcare use-cases. We provide complete solutions instead of just components, which help our customers eliminate long development cycles.
Our best example is UV-C disinfection. Before the pandemic, we were aware of this use-case, but we didn't understand our role to help accelerate the deployment of autonomous UV-C disinfection. To automate the disinfection process, you must ensure no people come in close proximity of the UV-C lights while they're on. We released a complete and validated solution with our very compact 360° 3D camera, PAL Mini, with highly accurate people detection. From a single vantage point, we can detect and locate people anywhere around the robot. The location part is the key. If a solution uses just 2D sensing, people could be detected that are greater than 20-25 feet away. There is no danger at this distance, so turning the UV-C lights off will only hurt the effectiveness of the disinfection process. Because we were ready with this solution, our customers could evaluate without any development. This helped them in going to market much faster.
Though the pandemic affected many manufacturing plants and has led to a very long shutdown at some places, we continued delivering withvery short lead times. If you go to our website and purchase the starter kit, we ship typically next day. We were ready during the pandemic to support the need for automation. That is our strength. While 2020 has been a challenge for everybody, we were able to accomplish a great deal despite the challenges and feel proud and fortunate that our technology is being used to help combat the virus.
QUESTION
Why is it important for camera-based vision systems to have such large fields of view, and how do they benefit the use of autonomous mobile robots, ultra-violet disinfectant robots, collaborative applications, and more?
ANSWER
The more a robot can sense, the more effective it will be at performing its tasks. Automation in robotics started with following the magnetic tapes, and then lasers, and now robotics designers are looking to add camera-based vision systems so that their robot can sense and collect more and more data for intelligence. You may wonder why this intelligence is important? Robots are not just being deployed to replace humans' work, they have to work alongside humans. And human behaviour is unpredictable. For robots, sensing is the most important thing right now. If sensing is good, intelligence will be better. Think of the other sensors that can detect obstacles but can't recognize them. A camera-based vision system provides the eyes of the robots. More than that since a human can not see all around. But now robots can. Robot designers have realized the need to see all around very early, but they did not have any solution that can give them a high field of view with the same sensor. DreamVu has changed that.
Before DreamVu arrived, all of these stereo cameras had the same issue – a narrow field of view in horizontal and vertical planes. 90° horizontal field of view is commonplace, meaning that multiple stereo cameras have to be installed, connected, stitched, calibrated, and then processed for obstacle detection. Or, a single-camera is used and complemented by proximity sensors or laser scanners to cover the large blind spots created. Bottom line, this is an expensive and overly complicated problem to address. Consider a large field-of-view camera in an autonomous mobile robot, the full 360° isn't required, but it could use a stereo camera like DreamVu's PAL at 180° FoV. Now, in addition to seeing everything in front, PAL can also see obstacles which could be approaching from the sides. As the robot maneuvers left or right, it can see if any obstacles are in its path. This AMR can maneuver much more effectively now. And, the sensor stack is so much simpler with just a single large FoV stereo camera. And lastly, DreamVu's optics' inherent advantage is that there is no near-field blind spot that all other stereo cameras have. Similarly, In UV-C and the collaborative robotics applications, wide FOV camera-based vision system can detect a person anywhere around the robot.
QUESTION
What is vision intelligence software, and how can it be used for customers seeking complete solutions?
ANSWER
Early on, we realized the need for wide FOV to improve robotic systems' performance for navigation, mapping and situational awareness. We wanted to provide the robotics designers with a complete solution to build a robot in no time. And that is what Vision Intelligence Software enables. Vision Intelligence Library is the library of software modules which uses 360° 3D data from our cameras and provides an intelligent output. For Ex: VIL person detection package provides the human location in X, Y, Z from the camera. With the Vision Intelligence Library, our customers can mountthe camera, connect the camera and readily deploy their solutions. It eliminates the long development cycle which is a hurdle to wide adoption in robotics today. With the Vision Intelligence Library, we want to accelerate the entire cycle of development and testing, to less time. Another example is SLAM. We know with large FoV cameras, mapping and localization perform better because you're guaranteed to see some texture to use to reference distance in every frame. With PAL and PAL Mini, our customers can directly use SLAM, a part of Vision Intelligence Library. Currently, we have 2D 360° SLAM with PAL and PAL-Mini available. 3D Visual SLAM with PAL is being developed and will soon be available as a validated solution. We also have multiple configurations for ODOA, floor mapping, scene segmentation, and object recognition as part of the Vision Intelligence Library.
QUESTION
What are some innovative technologies you're seeing or working on today?
ANSWER
We are seeing a trend in our customers moving to using 3D data instead of relying on just 2D. We have seen a lot of demand for camera-based vision systems. One example is 3D Visual SLAM, which means navigating the robot based on visual only input and no dependence on LiDAR. An industrial 3D visual slam is challenging to make, and many companies are working on this. A 360-3D camera-based vision system improves the mapping and localization because they are rich in providing more contextual information. I think this is the next innovation in the technology stack for mobile robots. While improving the robot's value, it is also important to reduce the sensor stack costs. And we're part of this movement because we strive to simplify the sensing requirements, so the robot's ROI drives larger and faster adoption. We are the first to develop such a compact 360-3D camera, PAL Mini, which can also provide a 3D Visual SLAM. The optics in PAL Mini is just 3cm in diameter. Did we ever imagine such small omnidirectional 3D vision system? Size of PAL Mini enables domestic robot companies to bring in capabilities which they could never think of. Because of the size, they are limited to 1D/2D lasers. That is the level of innovation DreamVu is working on.
QUESTION
How has the vision and imaging industry evolved over the last decade?
ANSWER
The first point to discuss is economics, driven entirely by the mobile phone industry. CMOS sensors have such advanced capabilities built-in and embedded processors now allow high-performance edge computing to happen at unbelievably low costs. This means that high-performance vision and imaging can now happen in modest volume applications – whether it is super high-speed or super high-resolution, these solutions are affordable. And with AI and neural networks running at the edge, great levels of intelligence can be applied to computer vision. With these economics, it enables the potential for more use-cases, which puts pressure on the vision system suppliers to innovate – to take advantage of the capabilities that are now available. At DreamVu, we're at the forefront of this. First, using a very compact device PAL Mini, we create stereo vision using innovative optics, which means we can take advantage of the advancements in CMOS sensors and embedded processors. Second, We get high-resolution and high framerate and perform edge processing to de-warp images and apply AI to transform the video feed into vision intelligence. Without having to rely on the cloud. This could not have been anticipated ten years ago.
QUESTION
Why is now a great time for customers to invest in this technology? How can they best get started, or enhance current systems?
ANSWER
Thinking about the next decade and where it would go, in my opinion, every other robot will be doing what humans do right now. And that wide adoption can only come with a camera-based system. You cannot avoid a camera-based vision system. And if you have a camera, you will need more sensor information to work, reliably and safely. And there is no other ideal solution right now, which can provide you with the most amount of information at the lowest cost. This technology aligns with the future of robotics. On top of that, robotics companies have never seen such widespread opportunity and fierce competition. The market is ready for mass adoption of robotics outside of the car manufacturers' facilities. But the sensor stacks are still too complicated and expensive, which will not remain possible in the future due to pressure to drive the costs down. Hence, now is the time to take advantage of new and better ways. And that's where DreamVu comes in. Robotics developers can get started by evaluating PAL or PAL Mini. Why listen to me telling them when they can see for themselves. And for any company building UV-C disinfection, our 360° 3D people detect solution is ready to go. Fully validated and deployed.