Thought Leaders in Automation
LEADING THE WAY IN INNOVATION
Learn from expert industry professionals and read their insight into the growth and opportunities in automation.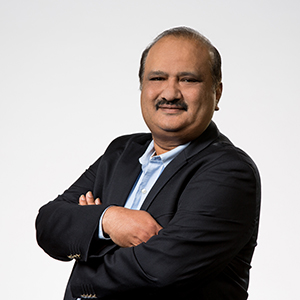 Murali Gopalakrishna
Head of Product Management, Autonomous Machines: General Manager - Robotics
NVIDIA
Murali Gopalakrishna heads up product management for autonomous machines at NVIDIA. He also leads the business development team that focuses on robots, drones, industrial IoT and enterprise collaboration products.
Before joining NVIDIA in 2016, Gopalakrishna was the global head of platform and technology strategy, leading the CTO's office at Sony Mobile Communications. He was responsible for products ranging from phones, tablets and wearables to IoT platforms.
Gopalakrishna holds a Bachelor of Engineering from the National Institute of Engineering in India.
QUESTION
With economists forecasting larger uses of robotics and automation, this potentially means a lot of new customers – what would you tell business leaders about getting started with automation?
ANSWER
Organizations ramping up on automation today must embrace artificial intelligence (AI) innovation. Across manufacturing, transportation, medicine, science, finance and the energy sector, we are no longer debating whether AI works or if it will happen. It's here now, and products powered by NVIDIA GPUs and AI technology – supported by a vibrant developer community and partner ecosystem – are advancing productivity, reliability and safety across industries.
Business leaders are also realizing there aren't enough researchers, data scientists and engineers with the level of technical expertise needed to meet demand. Upskilling in AI and robotics is critical to success for organizations looking to leverage automation.
QUESTION
How has COVID-19 pandemic changed business in areas such as supply chain, business operations, manufacturing processes, etc.?
ANSWER
As the lines between home and workplace blur, robots have automated myriad post-pandemic tasks to address social distancing, worker safety issues and the need for intelligent teleoperation by remote workers. Moreover, AI and deep learning (DL) are enabling these robots to operate as "cobots" in close collaboration with humans in complex environments, including warehouses, retail stores, hospitals and industrial automation.
Whether autonomously moving parts and products or visually inspecting goods for defects, the onshoring of manufacturing has also accelerated the urgency for robotics deployment and automation. This transformation has been especially dramatic in the following applications:
Logistics: From pick-n-place to last-mile delivery, automation has become indispensable with the increasing need for efficiencies across the supply chain and e-commerce.
Healthcare: To minimize contact and support shortage of staff and resources, robots have become critical in the delivery of medicine/supplies, patient monitoring, medical procedures, temperature detection, and UV disinfectant applications in public and private spaces.
Retail: From cleaning, inventory and safety (temperature detection, mask detection, social distancing) to shelf-scanning and self-checkout, automation has transformed the shopping experience.
Manufacturing: Companies are using AI/DL to create the factory-of-the future, leveraging robots and cobots for no-touch manufacturing and inspection as well as enabling zero downtime to increase productivity and efficiency.
QUESTION
What have you learned from your evolving customer base, particularly the shift to more diversified applications in areas such as healthcare, consumer goods, food, etc.?
ANSWER
Powerful GPU-based AI-at-the-edge computing, along with a full spectrum of sensors, is widely implemented in the field today. Fueled by AI and DL, sensor technologies that power perception for real-time decision making have revolutionized progress in several areas of automation and robotics, including navigation, visual recognition and object manipulation.
Across these diversified applications, robots are being trained on what to do -- and how to improve upon complex tasks -- as quickly as within a few hours or overnight (versus what used to take weeks or even months). AI techniques such as one-shot learning, transfer learning, and imitation learning are no longer confined to research papers; many of these methods are used in automation by customers in real-world deployments today.
QUESTION
In your opinion, what do you expect to see in the coming decade in automation??
ANSWER
While automation made important strides in the past decade, many of the tasks were still not automated. Many of these tasks will rely on the fact that robots are becoming more autonomous. This shift from automation to autonomy is what will drive the next decade of innovative use cases. NVIDIA is delivering the technologies that will enable the world to be more autonomous. With improvements in perception technology, connectivity and high-performance edge computing, the next decade will be powered by all-new workflows and AI workloads that will truly change automation to zero touch, zero downtime.
Early cobots had limited capabilities and posed safety risks that precluded widespread adoption on the factory floor. With AI, these systems will make real-time decisions to ensure safety in the factory-of-the future, while maintaining and optimizing productivity. This includes training a cobot to perceive its environment and adapt accordingly -- allowing it to reduce speed, adjust force/strength, detect changing working conditions, or shut down safely before interfering with humans nearby. We'll see the days of just a fixed-function robot come to an end in many industries, with a skilled labor force controlling cobots from the comfort of their home/office.
QUESTION
What factors will drive these advances in automation?
ANSWER
One of the key drivers is the speed at which simulation technology is able to model the real world. Going forward, simulation technologies like NVIDIA Omniverse and the NVIDIA Isaac platform will be used for every aspect: from design and development of the mechanical robot, then training the robot in navigation and behavior, to deploying a "digital twin" in which the robot is simulated and tested in an accurate and photorealistic environment before being deployed to operate autonomously in the real world.
NVIDIA continues to investigate how AI/DL along with physics-based reinforcement learning (RL) and photorealistic simulation can be used to train manipulators in virtual environments and then deploy them in the field. Most previous work on applying RL to robotics and automation involved clusters of thousands of CPUs; we can now train some of these RL policies on a single GPU in a fraction of the time.
Again, AI and DL innovation will become increasingly important in the development of tomorrow's robots and automation. It will enable multi-functional robots to dynamically configure themselves to work on various tasks. All of this while remaining just as fast and efficient, if not more so.
QUESTION
While we all know downtime can help relieve stress, several science-backed studies confirm you actually improve productivity when you take time to enjoy life outside of the office. What are some of your favorite things to do in your free time?
ANSWER
Funnily enough, even though my kids have long outgrown them, I find nothing more relaxing than watching reruns of animated classics and listening to music that's from a generation before me.