Thought Leaders in Automation
LEADING THE WAY IN INNOVATION
Learn from expert industry professionals and read their insight into the growth and opportunities in automation.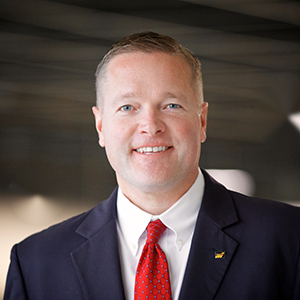 Mike Cicco
Mike Cicco is the President and Chief Executive Officer (CEO) of FANUC America Corporation. As President and CEO, Mike has responsibility for all of the company's operations in North and South America.

Mike joined FANUC in 1999 and has held a variety of management positions over the years including software/controls manager and district sales manager at the company's Southern California facility. In 2005, Mike transferred to FANUC's headquarters in Rochester Hills, MI to take on the role of national account manager of the company's Authorized System Integrator sales group. As his career progressed, he was named general manager of several robot division groups including Material Handling Engineering, Authorized System Integrator sales, and Domestic Automotive/Michigan Regional sales. In 2015, Mike was promoted to vice president of FANUC's North and South American sales and execution. In April 2016, Mike was named president and COO.

Before joining FANUC, Mike served as lead automation engineer for Northrop Grumman in the Automation and Information Systems group.

Mike holds a Bachelor of Science degree in Electrical Engineering from Bucknell University in Lewisburg, PA. In addition, he is a board member of the Association for Manufacturing Technology (AMT).
QUESTION
As the head of a major global automation company, how have you seen the industry change and develop during your time in the industry?
ANSWER
I have seen the industry develop dramatically over the past 20 years. Specifically, I've seen the adoption of robotics and automation increase at a very high rate during my time in the industry. In addition, intelligent functions like industrial vision and sensing technologies have also increased drastically over the years. As the technology advances, robots and automation have also become increasingly easier to use and more affordable for both large scale manufacturing and small "mom & pop" shops. Many companies are using collaborative robots to work with their production staff. While it all started with the automotive industry, we're now working with a wide range of industries from food service to e-commerce, industrial commercial equipment to electric vehicles. Also, since the pandemic, FANUC and our team of authorized system integrators have helped companies quickly incorporate robots to produce life-saving equipment like ventilators, testing kits and PPE. Another challenge that manufacturers face is the need to hire more skilled workers. FANUC is working with schools and industry to help offset this shortage with our certified education programs. Today we have over 1,200 educational partnerships throughout the Americas. These schools are training students on FANUC equipment so that they can manage the automation. It's especially exciting to be involved in manufacturing today!
QUESTION
You became CEO at a relatively young age in an industry traditionally dominated by older leaders. Was that a difficult challenge for you?
ANSWER
Maybe I look younger than I actually am! But in all seriousness, our industry started with a group of leaders and innovators in the 1980s and over the last 5-10 years, many people from that founding group have started to retire. I have had the privilege to learn and be mentored by many of these leaders over the years and I am excited to see the future generations of leaders emerge and start making a positive impression on their companies and the industry.
QUESTION
As the head of a company with a Japanese parent, the travel back and forth surely was challenging in the pre-pandemic world. Do you see a return to that model of frequent travel going forward, or do you think the post-pandemic world will involve far less travel based on how effective companies have been during the COVID period?
ANSWER
It is probably a little too early to tell what the future holds in this regard. I feel that face to face interactions are always the most efficient and effective way to communicate and my trips to Japan or anywhere in the world are very beneficial. What I miss most are the opportunities to meet with customers at our Corporate Headquarters and new North Campus facility here in Michigan, as well as our regional offices throughout North and South America. Hosting customers at a FANUC site is the best way to help them understand who we are and what we do, and the wide range of automation solutions we can provide to help them solve their manufacturing challenges. In addition, I miss the in-person meetings and conversations at FANUC's private show, as well as tradeshows. However, this pandemic has forced all of us to find new ways to communicate and interact and I have been pleasantly surprised at the results of using a virtual platform.
QUESTION
FANUC is involved in many trade associations around the world. How has involvement helped the company grow?
ANSWER
Although the effect our industry has on global manufacturing is immeasurable, in reality, we are a fairly small and tight-knit community. Getting involved in trade associations has enabled us to meet and collaborate with other leaders on what is best for the industry. In addition, the information the trade associations generate and collect drive many of the decisions we make and are invaluable to us as an organization.
QUESTION
The COVID-19 pandemic has revealed many vulnerabilities in areas such as supply chain, business operations, manufacturing processes, etc. What are the most important lessons you've learned that will help your company be better prepared for future pandemics?
ANSWER
I feel that communication is key. When the COVID-19 pandemic shut down our businesses in mid-March, the strength of our communication channels enabled us to quickly pivot and stay productive. Our staff was able to effectively meet and decide the next steps and the communication with our employees and customers gave everyone a clear picture of the current state of our business. We have a culture that promotes open communication throughout the organization and this also helped us navigate these uncertain times by continually listening and adapting.
QUESTION
While we all know downtime can help relieve stress, several science-backed studies confirm you actually improve productivity when you take time to enjoy life outside of the office. What are some of your favorite things to do in your free time?
ANSWER
I have a large family with a wonderful wife and 4 kids and most of my downtime is spent with them. All of my kids are very active and I love spending my time watching them grow and develop during their sports and activities. We also just got a 3D printer as a family and it has been a great experience to work with my kids and watch them learn and get excited about designing and creating things!