Thought Leaders in Automation
LEADING THE WAY IN INNOVATION
Learn from expert industry professionals and read their insight into the growth and opportunities in automation.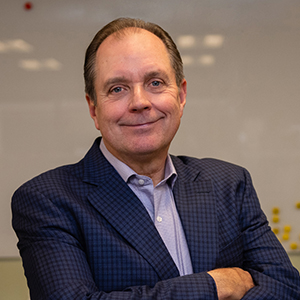 Gary Miller
Gary is the owner of Miller Resource Group, a Talent Advisory and Executive Recruiting firm that is dedicated to the Automation Industry. Manufacturers, Integrators and Distributors of Automation Equipment and solutions turn to Miller when they need assistance attracting top talent required to achieve their vision and reach their goals. Miller Resource Group celebrates it's 50th anniversary this year and Gary's been with the firm since 1977. They've grown up with the automation industry and have helped scores of companies hire thousands of candidates during this era.
QUESTION
During your time in robotics, you have been very active in industry organizations such as the Association for Advancing Automation. What is the primary reason for your involvement, and how have you and your company benefitted?
ANSWER
One of our core values at Miller Resource Group is dedication, as in dedication to the industry you specialize in among other things. I can't think of a better way to live that other than joining and contributing to the flagship association in automation, A3. To sit with industry leaders, get to know them, understand where their interests lie and learn of their challenges has allowed us to serve them better, which is why we're here as a firm. The commitment to the association benefits everyone.
QUESTION
The COVID-19 pandemic has revealed many vulnerabilities in areas such as supply chain, business operations, manufacturing processes, etc. What are the most important lessons you've learned that will help your company be better prepared for future pandemics?
ANSWER
We have learned to be mobile and remote on instant notice. Since we operate in the "human supply chain", we and our clients have had to adapt to video interview strategies and remote hiring and onboarding to fill critical roles. There have always been opportunities for efficiency there with more video meetings, but COVID has accelerated the need. Many more are quite comfortable with it already, giving them access to available talent.
QUESTION
What are some of the challenges you have faced when reaching out to clients during the pandemic? What have you done to combat those challenges?
ANSWER
At first, most people including us, were somewhat shocked. What do we do, how long, how will it impact us? Will we make it? Anyone who didn't consider the dark side is likely not being truthful. We recognize that human collaboration is the only solution and we quickly saw that we were a positive force for that. We shored up operations quickly and became a Pied Piper of sorts sharing stories of how other firms were coping and adjusting and potential clients were eager to speak with us.
QUESTION
During the Great Plague of London, Isaac Newton was working on mathematical problems, experimented on a few prisms where his theories on optics were born, and were when he started to understand and study the theories of gravity and motion. During the Covid-19 pandemic, what are some of the innovative things that you have done or have come up with to reach or go above and beyond your 2020 goals?
ANSWER
Much progress began in times of adversity…we're no different right now. Our outreach is becoming more video-based with interviews, intake calls and social media broadcasts. 2019 was a record year by far and we're on track to beat it 2020. It's only July and they don't give out prizes at half-time, but we're determined to plow ahead and be stronger for our clients and families in spite of the challenges.
QUESTION
While we all know downtime can help relieve stress, several science-backed studies confirm you actually improve productivity when you take time to enjoy life outside of the office. What are some of your favorite things to do in your free time?
ANSWER
I've been able to focus on health with the extra time. Yoga and push-ups every morning walks with my wife every evening…and as many know, I'm obsessed with golf. Camaraderie, fresh air, exercise, and competing with oneself in an infinitely variable game are the features for me. It's kind of like life….infinitely variable and always trying to be better than you were before.
QUESTION
Now that things have moved toward a virtual platform, have you found it easier or harder to work? Why?
ANSWER
I miss the laughs with our team more than they know, but we're settled in and we're getting the job done. The back to work party will be a good one!