Thought Leaders in Automation
LEADING THE WAY IN INNOVATION
Learn from expert industry professionals and read their insight into the growth and opportunities in automation.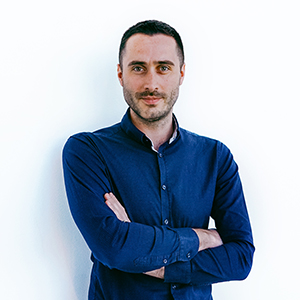 Matija Kopi?
Matija Kopi? is the CEO of Gideon Brothers, a robotics and AI company he co-founded in 2017. Gideon Brothers is one of the global pioneers developing autonomy technology for material handling in industrial environments based on 3D visual perception.
As CEO, Matija is managing the overall operations of the company, he is responsible for business strategy, financing, recruitment, as well as creating and achieving short- and long-term objectives.
Matija built his first startup, Farmeron, in 2012, and the company grew into one of the most known startups in Croatia. He is a Seedcamp winner (2010) and is an alumnus of the 500 Startups class of 2011, both with Farmeron.
In 2015, Google listed Matija in the Top 100 innovators from Central and Eastern Europe who are changing the world and improving people's lives with ideas that scale up in the digital world.
He holds an MA in Information Technology from Zagreb University's Faculty of Organization and Informatics.
QUESTION
There's been a shift in how robotics are used, and we'd love to hear your take on how robots have moved from primarily a tool for big companies in automotive and electronics to products that are used by companies of all sizes and virtually every industry.
ANSWER
A key driver of this immense shift in robotics has been the increased flexibility of robotic systems, thanks to a range of technology advancements. But this is just the beginning. With the advance of AI and Computer Vision, an entirely new generation of smarter and more flexible machines has emerged, easier to implement and deploy in a wider range of use cases across every industry.
The flexibility and ease of deployment are essential, as this breaks down barriers of scale. SMEs – which are usually the most vigorous segment of the economy – can harness these new autonomous robots just as easily as large companies.
However, we're only starting – the young market of the solutions based on this new generation of technology is in the early stages. Over the coming decade, we'll see a proliferation of mobile robots of different shapes and sizes – and Visual Perception will power them all.
QUESTION
The COVID-19 pandemic has revealed many vulnerabilities in areas such as supply chain, business operations, manufacturing processes, etc.? What are the most important lessons you've learned that will help your company be better prepared for future pandemics?
ANSWER
First and foremost is that enabling the remote deployment of robots is a must. We have tweaked our support processes and made it possible for our customers and partners to perform the entire deployment by themselves, with our remote support. It's been amazing to see how quickly all of these projects have become operational.
The pandemic has strengthened our conviction that making flexible, easy to use, reconfigurable systems will help speed adoption and prevent future shocks. A wide range of use cases is another crucial requirement – we have to focus on solving a variety of problems for the customer, not only one.
QUESTION
During the last 20 years, manufacturing companies have seen a 25 percent improvement in productivity as a result of automation. This has caused a recalibration in the tasks of the workforce. How does this benefit not only the company, but also the worker? Also, what other changes do you see coming to the workforce?
ANSWER
What we're witnessing in our projects are the workers rising to become automation operators and the supervisors of the machinery designed to increase the throughput of the system. We've seen forklift drivers becoming robotic fleet managers.
Humans will continue focusing on what they're good at, and this includes complex spatial manipulation, such as picking things with their hands. However, a deeper, closer collaboration between robots and humans on the shop floor is the only way to move forward.
A supervising AI software needs to understand how human-robot collaboration is put to the best use. It can do so by relying on data generated by the close interaction between robots, humans, and the existing infrastructure in the facility, constantly optimizing the workflow to get the best out of all elements of the system: human and machine one.
QUESTION
Robotics, Machine Vision, Industry 4.0, Artificial Intelligence, 5G, Blockchain, Quantum Computing – the number of technology advancements and "buzz words" that companies have to know about and be able to take advantage of seems dizzying these days.? What is your advice to users on how to get started with automation and how to make sure they are staying abreast of all the latest developments?
ANSWER
Customers should not be afraid to experiment with things but should always focus on getting the ultimate solution. It's easy to start playing with different advanced components, but only efficient end products and solutions make sense. The road from lab concepts to full commercial solutions that solve real problems is quite a long one.
What we see among our customers is the need for automation to solve a vast number of different problems. Having suppliers that can solve a number of problems - not only one - using their technological backbone is a clear benefit.
So, work with companies and startups that are pushing the boundaries of what's possible, and don't be afraid to open the doors of your real-world facilities to try things out.
QUESTION
With economists forecasting larger uses of robotics and automation, especially coming out of the COVID-19 landscape, this potentially means a lot of new customers – what would you tell business leaders about getting started with automation?
ANSWER
Start small, build confidence and trust in the supplier's team - it's all about people. Establish a relationship. Vet the technology through a PoC and then trust the supplier to do more for you. Do not be afraid to try changing or modifying your existing workflows if the result is promising to deliver benefits.
The journey is different for each of our customers or partners, but we always work together, helping them find the best solution that can generate the most value, be it analyzing existing workflows to find the most efficient use-cases or working on a new machine – with a new form and specs – to fit specific requirements.
QUESTION
While we all know downtime can help relieve stress, several science-backed studies confirm you actually improve productivity when you take time to enjoy life outside of the office. What are some of your favorite things to do in your free time?
ANSWER
Running a fast-growing robotics company can be stressful, but I have a baby girl of almost three years, and she's keeping me fully busy after work! I exercise, spend time in nature, and love to spend time with my family and friends over barbecues. Well, as much as COVID-19 allows.