Thought Leaders in Automation
LEADING THE WAY IN INNOVATION
Learn from expert industry professionals and read their insight into the growth and opportunities in automation.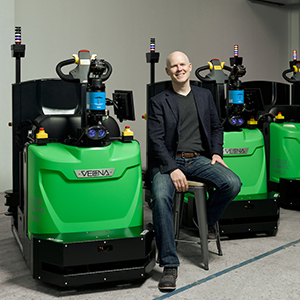 Daniel Theobald
Daniel Theobald is the CEO and founder of Vecna Robotics, the autonomous mobile robot and workflow orchestration company. Daniel has decades of experience leading research scientists and teams of engineers in developing cutting edge technology. He has 67 issued patents and more than 30 patents pending.
Daniel has been on the forefront of robotics for more than 20 years, working closely with DARPA, DOD, NASA, NIH, USDA and many others to advance the use of robots and AI software to improve supply chain automation. In addition to founding Vecna Robotics, Daniel also co-founded MassRobotics, a non-profit dedicated to the global advancement of the robotics industry. Daniel is dedicated to the idea that technology can be used to empower people worldwide to live more fulfilling lives.
QUESTION
How has the start of the new decade changed the way that businesses should think about automation?
ANSWER
With the proliferation of autonomous solutions in industrial settings, it's imperative to respond to increased demand not by adopting robots as point solutions, but by looking at workflow as a whole. We anticipate there will be 4 million robots in 50,000 warehouses by 2025. The next decade will be spent rapidly scaling those robots into the real world, and more importantly, achieving productivity goals through effective orchestration.
Orchestration takes into account the status of all deployable agents in real-time: the many form factors of automated material handling equipment, including tuggers, pallet trucks, small robot conveyors, robot arms, manual trucks, and the human workforce. By leveraging the irreplaceable nature of human problem-solving, abstract reasoning, and creativity, and marrying that with the precision, efficiency, and real-time data collection that is unique to robotic solutions, warehouses are able to increase throughout, operate more efficiently, and unleash the full power of automation.
QUESTION
What types of improvements will AI drive when it comes to automation in the warehouse?
ANSWER
Warehouses and distribution centers are continually changing ecosystems, with bottlenecks causing a ripple effect of delays across whole facilities and the downstream chain. While warehouse managers and logistics professionals are great at problem-solving, they often don't have knowledge of, or access to, the data that will help them anticipate and even predict the future factors that will impact their operational efficiencies.
Continuous learning is key to improving productivity and efficiency in the warehouse, for applications like:
Cross-platform orchestration: Orchestration considers all automated solutions within the environment from multiple makers. Through strategic coordination across platforms, form factors, and capabilities, orchestration understands who is available to work, what tasks need to be completed, and how to assign each job to ensure work continues most efficiently.
Synchronous simulation: Much like the driving and navigation app Waze can propose a new route to the driver, AI can propose a new workflow to operations managers. These platforms can constantly run simulations, given real-time data, to find more efficient ways to complete missions given all available resources.
Predictive analytics: Orchestration engines integrate with legacy automation, piece-picking robots, WMS, and MES systems to provide a system-wide view of operations. With this level of insight, the AI engine can use predictive analytics to get ahead of bottlenecks in real-time.
Continuous improvement: AI-powered orchestration engines can collect, analyze, and deliver insights based on data to ensure continuous improvement for robots and task allocation over time. This helps ensure robotic investments continue to learn specific warehouse settings' nuances and deliver enhanced results, rather than stay static from the first deployment date.
QUESTION
Are there any other keys to making the combination of AI and robots work?
ANSWER
The human element is critical to making AI and robots work. As counterintuitive as it sounds, human workers are essential to all warehouse processes that include autonomous systems. In a facility that employs AI, robots, and workers, each plays a unique role.
AI is constantly scanning, looking for, and learning from opportunities to create greater operational efficiencies and communicating with workers through wearables and robots to deploy them to solve problems in real-time. Robots are used for automating routine, repetitive, dangerous jobs, such as lineside replenishment, racking, and staging. Supported by AI and automation, humans can turn their attention to higher-value activities, like exception handling and creative problem-solving.
We have seen this allocation of tasks between Pivotal, our AI-powered orchestration engine, autonomous mobile robots, and workers in a production environment result in high employee satisfaction and engagement.
QUESTION
What are the stumbling blocks that organizations need to overcome when it comes to automation?
ANSWER
Sometimes the hardest part is getting started. Warehouses, distributions centers and manufacturing organizations can get over the hump by starting small and then scaling their use of automation.
There are a few ways to do this. The first is to start collecting information using Real-Time Location Services (RTLS) to gather data across all robots, workers, and manual equipment. Our customers can collect data, including resource usage, distance traveled, travel time vs. idle time, deadheading, and high-traffic routes through a facility. Analyzing this data is a low-cost way to identify areas for improvement and can be used to simulate and assess multiple scenarios to determine optimal resource utilization and automation mix. Understanding what's really going on in your operation is the key to unlocking significant value.
The second way to begin is to simply deploy a small fleet of robots into a production environment, assess ROI, gain confidence, and then scale and integrate mobile robots with warehouse management systems.
QUESTION
While we all know downtime can help relieve stress, several science-backed studies confirm you actually improve productivity when you take time to enjoy life outside of the office. What are some of your favorite things to do in your free time?
ANSWER
I enjoy spending time at my family farm in California, where we raise goats and chickens and grow organic fruits and veggies using sustainable practices. Getting back to the land is always a great way to decompress and stay centered.