Robot Safety Resources: Risk Assessment Software
The current version of the Industrial Robot Safety Standard (ANSI/RIA R15.06-2012) requires that a risk assessment be carried out on every installation of a robotic system. To help streamline your risk assessment process, A3 is pleased to offer the following Risk Assessment Software packages, created by leading industry safety experts.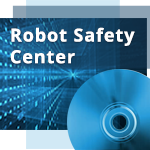 Robot Safety Center
Robot Safety Center is the 1st Task-based Risk Assessment software anyone can use with versions for Robot, Crane, and Machine applications. Robot Safety Center delivers a clear, easy-to-understand, consistent path to methodology needed for reducing risk to an acceptable level. Identification of tasks, associating them with hazards, and selecting the proper Performance Level, safeguard and complementary protective measure is as easy as point and click. Verification and validation modules are included. Available as RIA TR R15.306-2016, ANSI B11.0-2015 or ISO 12100:2010.
More Information and Purchase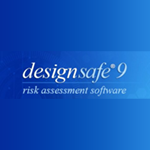 Robot Risk Assessment Version 9 (designsafe® 9)
designsafe® 9 introduces a new feature to help users with the control of hazardous energy. When done correctly, an Alternative Method can be used in lieu of fully locking out machinery for tasks like clearing jams, cleaning, set up, lubrication, and others. OSHA has accepted the use of Alternative Methods in certain cases, and this new feature helps you do it right.
designsafe® 9 adds a new 4th tab to guide customers in complying with the requirements for an Alternative Method in accordance with ANSI Z244.1 – Control of Hazardous Energy – Lockout, Tagout and Alternative Methods.
The new 4th tab in designsafe® 9 provides the outline of items that users need to evaluate when utilizing Alternative Methods with machinery. designsafe® 9 walks users through this process, provides guidance on what documentation you need to collect, and helps demonstrate how you have met the requirements to use an Alternative Method.
Single-Use - More Info
Multi-Use - More Info