Webinars
Collaborative Robot Tasks: Light Years Beyond Pick & Place
Originally Recorded January 11, 2022 | 2 PM - 3 PM ET
ABOUT THIS WEBINAR
When collaborative robots exploded onto the industrial manufacturing scene nearly 15 years ago, they were mainly used for simple pick and place operations. But with collaborative robots being so flexible and easy to program, cobots are now automating dull, dirty and dangerous tasks in nearly every area of manufacturing, from welding to palletizing to polishing.
In this webinar, we'll explore the latest and most exciting applications that cobots are tackling, including AI, teleoperation, cloud-based/cell phone cobot programming, and tasks that can be done by combining a cobot mounted to a mobile robot. If you're looking to automate in 2022 but aren't sure a collaborative robot can handle the task at hand, this webinar is for you!
Attendees Will Learn:
Basic cobot technology and what makes them so flexible and easy to program
The UR+ ecosystem and value of this certification program
Cloud-based cobot programming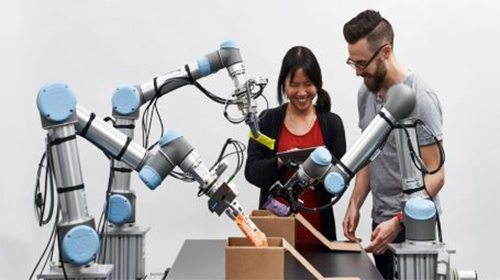 Exclusive Sponsor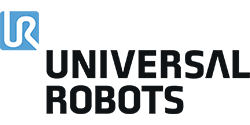 Universal Robots is the market leader in collaborative robots. Since introducing the world's first commercially viable cobot in 2008, UR has developed a product portfolio including the UR3, UR5, UR10, and UR16, reflecting each cobot's payload in kg. Each model is supported by a host of plug-&-play end effectors, software, kits and accessories in the UR+ certification program, allowing for flexible redeployment of one robot into several diverse applications. Universal Robots is automating every manufacturing industry thanks to its quick setup and intuitive programming that allows frontline workers to become cobot operators and programmers. Headquartered in Odense, Denmark, UR operates out of US offices in Ann Arbor, Michigan, New York, Dallas, Texas, and Irvine, California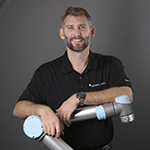 Tim DeGrasse, Senior Channel Development Manager
Tim is a Senior Channel Development Manager for Universal Robots, covering Northern California. He spent the first part of his career working on the manufacturing floor with L3 Technologies before transitioning to high tech sales. He moved into the automation market in Silicon Valley with Keyence Corporation and then Universal Robots where he has worked the past four years. Tim holds a bachelor's degree in Hardware Engineering from University of California – Santa Cruz. With a passion for helping companies adopt innovative technology, Tim has helped deploy hundreds of robots into the electronics industry helping customers stay ahead of the curve in the global manufacturing marketplace.
This webinar is filed under: