Webinars
British Invasion: Successful Cobot Deployment Strategies in the UK and US
May 24, 2022 | 10 AM - 11 AM ET
ABOUT THIS WEBINAR
Tune in as two heavyweights in the collaborative robot industry battle to claim the title for the best cobot applications in the industry. Mark Gray, Universal Robots country manager for the UK and Ireland, and Joe Campbell, UR's head of strategic marketing, will cover some of the top case studies presented in their regions. Jake Hall, the manufacturing millennial, will MC the event and, if needed, calm down these competitors.
Attendees will join a master class on collaborative automation deployments from both the United States and the United Kingdom. You are not going to want to miss this one!
Attendees Will Learn:
An in-depth look at automated manufacturing processes
Real-world case studies from leading manufacturers in the US and UK
Advanced level overview of collaborative robots and collaborative technology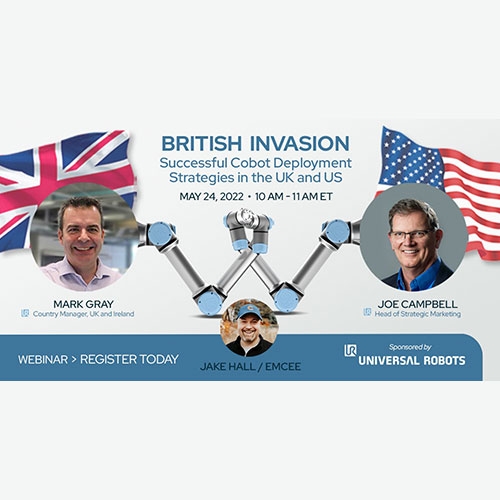 Exclusive Sponsor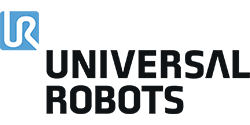 Universal Robots is the market leader in collaborative robots. Since introducing the world's first commercially viable cobot in 2008, UR has developed a product portfolio including the UR3, UR5, UR10, and UR16, reflecting each cobot's payload in kg. Each model is supported by a host of plug-&-play end effectors, software, kits and accessories in the UR+ certification program, allowing for flexible redeployment of one robot into several diverse applications. Universal Robots is automating every manufacturing industry thanks to its quick setup and intuitive programming that allows frontline workers to become cobot operators and programmers. Headquartered in Odense, Denmark, UR operates out of US offices in Ann Arbor, Michigan, New York, Dallas, Texas, and Irvine, California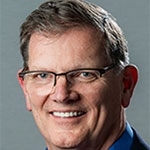 Joe Campbell, Head of Strategic Marketing
Joe Campbell is a long-time veteran of the robotics and automation industry. After executive assignments in sales, marketing, operations and customer service with industry leading robot, system integrator and engineering companies, Joe is head of strategic marketing for Universal Robots. Joe is a graduate of the University of Cincinnati. He is a regular speaker, lecturer and author on manufacturing labor issues, and the technology and economic benefits of robots and factory automation. Joe and his family live in Birmingham, MI.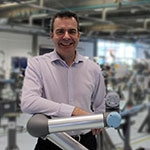 Mark Gray, Country Manager, UK & Ireland
Mark started his career as an electrical engineer and then moved into automation working for a manufacturer of packaging and bottling machines for Coca-Cola. After a move into sales, Mark ran a distributor for Cognex Vision Systems for 14 years. Finally joining Universal Robots as UK and Ireland Manager five years ago, Mark is responsible for day-to-day business.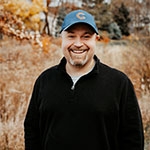 Jake Hall, Manufacturing Millennial
Jake Hall is better known as the Manufacturing Millennial. His passion for manufacturing, automation, and skilled trades has developed a following of 40,000 industry members, and his content on social media has reached over 25,000,000 views. Through Keynote Presentations, Panels, and videos, Jake ignites conversations about the latest in manufacturing and automation to excite the current and future workforce and enable companies to leverage technology to drive new opportunities.
This webinar is filed under: