Robotic cell brings the power of modularity to machine tending
The need for manufacturers to be able to respond more quickly to changing customer demands and market conditions calls for new levels of production flexibility. Stéphane Jetté, head of global solution centers at ABB Robotics for General Industry, explains how a new family of modular machine tending robots from ABB enables users to quickly adapt their production operations with minimal downtime.
Maximizing productivity in any manufacturing application demands that all resources – whether human or machine – are working at their optimum capacity at all times. When it comes to machine tending, there has traditionally been an issue with lost production due to factors such as swap-over and unforeseen production stoppages that have a knock-on impact on machine-tool utilization. Where human operators are used to load and unload machines, factors such as fatigue, sickness and mistakes caused by human error can also negatively affect production output.
To counter these problems, many companies are turning to automated machine tending solutions such as ABB's FlexLoader robotic cells. By automating the machine-tending process, they have been proven to provide higher machine-tool utilization, make better use of available human labor and provide the opportunity for autonomous, lights-out production through unmanned operation.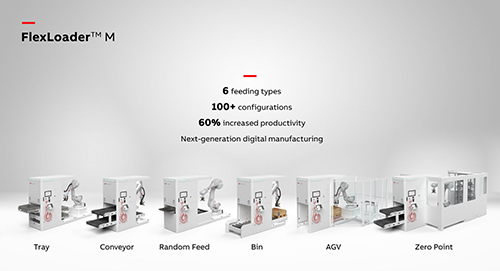 Already deployed in hundreds of applications worldwide, the cells are now entering their next generation with the introduction of the FlexLoader Modular, or FlexLoader M. Designed for operations producing multiple types of products in varying quantities, including batch-size-one production, the FlexLoader M is available in six versions and offers a variety of ways to load and unload machines based on the sizes, shapes and amount of the workpieces being handled.
"As customers demand greater variety and shorter delivery times, metals producers need to have a manufacturing process that can respond quickly and offer the flexibility to achieve high mix, low volume and batch-size-one production," says Andrea Cassoni, managing director for general industry at ABB Robotics. "FlexLoader M is accelerating this move by providing a single unified machine-tool-tending platform offering the flexibility needed for handling a wide variety of production demands, whilst also improving productivity by eliminating the time, cost and disruption traditionally associated with production changes."
A key feature of FlexLoader M is its software platform, which boasts an improved order management system enabling direct communication with the plant's manufacturing execution system (MES) or enterprise resource planning (ERP) software.
The robotic cell is autonomous together with the machine tool; the duration of the autonomy depends on available buffer and the mechanism of maintaining this buffer which can be automated (with AGVs for example) or manual. By using a Sick scanner, you don't need a fence, but the use of fully collaborative robots for machine-tending applications remains limited to smaller parts and reach requirements. However, for some applications, it may be possible to use collaborative robots, as well, and this will probably be more and more common.
Six versions of the modula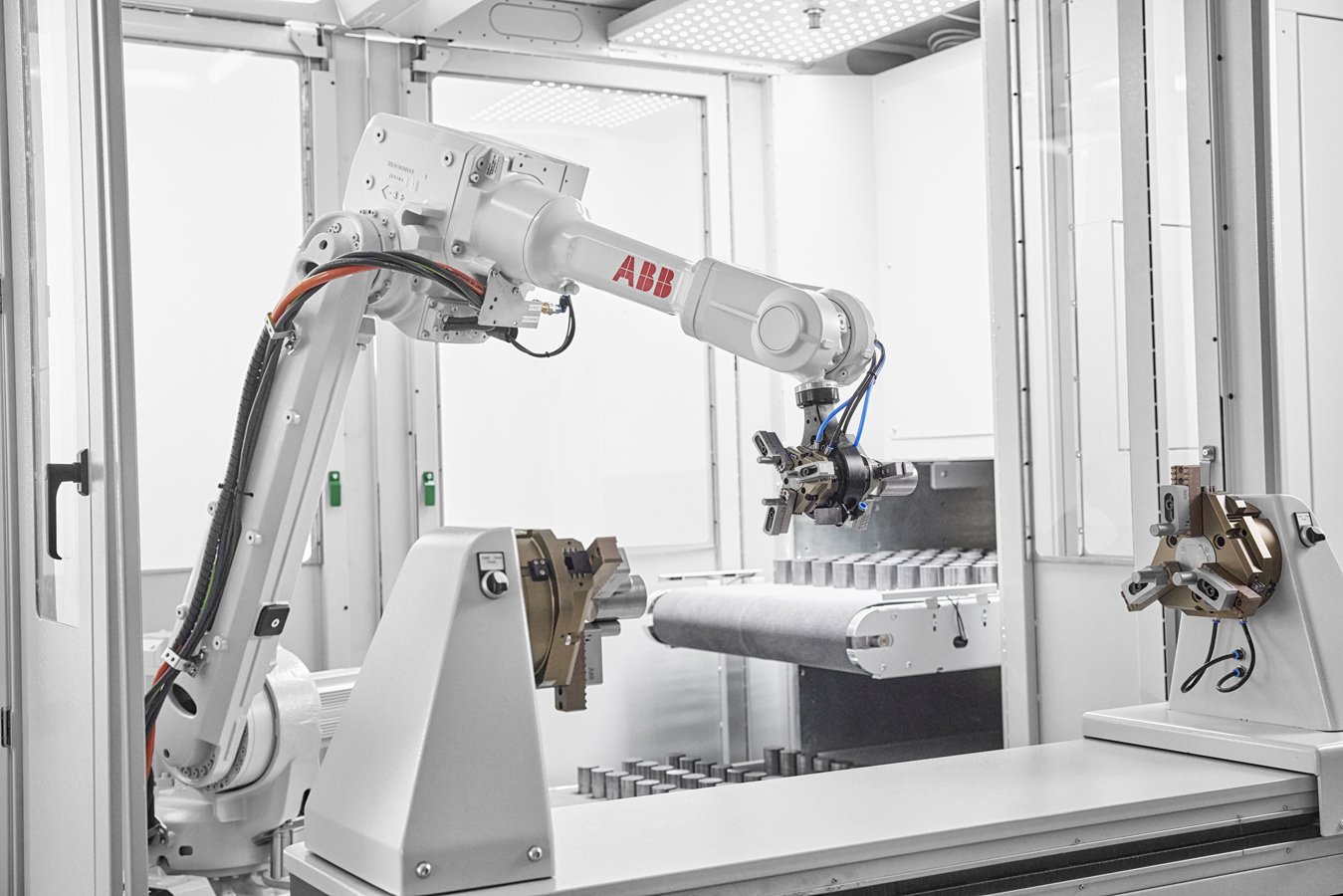 r FlexLoader will be available, giving users a choice of solutions to suit a wide variety of production run sizes and parts handling requirements. For example, for parts that may be sensitive to scratches or marks and must be handled with care, then FlexLoader M family offers the option of a Tray, Conveyor or Semi-Oriented 3D Bin Picking model. If the pieces are not so sensitive, then Stochastic or Random Bin Picking may be the best choice.
For batch-size-one production applications where individual workpieces may need to be treated differently, there is also a Zero-Point option. Already tried and tested in ABB's FlexLoader series, Zero Point uses a storage of parts already mounted on a pallet and a base plate with a fixture that is specific for the part being handled. Instead of picking up a part, the robot picks up the pallet and puts it in the machine at the zero-point position. As the fixture is specific to the part, there is no need to change the end effector of the robot since it is always picking up a pallet, and there is no need to do any changes in the machine as the full kit together with the part is fed into it.
A number of standard two- and 3-three-finger gripper options are available. Gripping approach and technology however, a key competence at the ABB Solution Center, can have a significant impact on performance and cycle time.
For highly automated operations, the FlexLoader M also features an AGV version, which feeds workpieces into the system automatically. Normally the AGV leaves a bin with pieces in the system that can be picked by using a 3D sensor, in the same way as the Bin Picking version.
Now available
The launch of the FlexLoader M starts with the Tray and Conveyor variants, with further variants due for release over the coming months. The FlexLoader M Conveyor uses a vision system to enable easy loading of workpieces with complex shapes, providing the flexibility to handle a variety of workpieces with a single cell.
High-quality three-phase drum motors from Interroll, controlled by B&R inverters, are used for the feed system, which is synchronized with the robot and managed by a B&R PLC via wired Profinet. For the AGV model, the control cable is routed elsewhere in the factory to the fleet-management system, with the signal then transmitted to the AGVs via Wi-Fi.
The standard articulated-arm robot is typically from the IRB 1600, 2600, 4600 and 6700 families, with further options also being designed. ABB's RAPID robot programming language, is included as part of the FlexLoader Vision system software, which is based on the Matrox Image Library (MIL 10). The vision system uses a high-quality camera from Basler for 2D vision with the Conveyor model. For Semi-Oriented or Random bin models, 3D sensors of different brands, typically Visio Nerf, Photoneo or Keyence, are used.
To provide the vision and scanning quality needed for machine tending, the camera and lighting are mounted in the roof of the main frame, with data on the part coordinates being relayed to the robot via Profinet.
The FlexLoader M Tray is a drawer solution for machine tending. The footprint varies between 2.3 and 3.3 sq m, depending on the robot stand. The fencing safety solution is then added to fit the installation. Able to be located almost anywhere, it is ideal for handling a variety of workpieces with variable shapes such as cubes, cylinders, plates and pipes.
The FlexLoader M cell can tend up to three machines. Depending on the machine tool to be tended, machine location can vary, but it is normally to the side or in front of the machine tool.
Flexible by design
Featuring standardized interchangeable modules, the FlexLoader M offers a flexible and expandable solution for a wide variety of machine-tending applications including lathes, mills, CNC and machining centers. A key benefit is the ability to use the same base machine, exchanging in and out feed modules as requirements change. It also minimizes maintenance interruptions by swapping feeding modules and servicing them offline.
The FlexLoader M's modular approach makes upgrading and scaling up easy, with just one to two days needed on average for installation and commissioning.
Installation and commissioning can easily be done by a trained integrator, and FlexLoader M offers remote connection to support commissioning and service. All systems have been factory-tested before delivery, usually without interaction to the machine. Site acceptance test is done by the integrator together with the end customer, which is when the complete operation with the machine is fully tested.
The FlexLoader M meets the demand from manufacturers for a simple automated solution that produces more workpieces in less time. The FlexLoader M robot cells are designed to be extremely user-friendly and quick to program, even without specific robotics expertise.
A smart wizard enables new workpieces to be programmed in less than five minutes with no vision-programming expertise required, while changeover between pieces that are already programmed is possible in less than one minute, making batch-size-one production a reality. The simplicity of the programming software means that full operator training can be completed in less than half a day, further reducing the time needed to put the cell into operation.
The operator interface is a touchscreen display mounted on the side of the cell. From here, the operator can start and stop the production in different ways. When started, the appropriate robot program is loaded, and communication is established with the machine tool to verify production readiness.
A display can be accessed on remote devices for monitoring a cell or fleet.
The robot also has its own FlexPendant handheld controller for programming movements during commissioning and operation.
The FlexLoader M can reduce labor costs for machine tending processes by up to 90 percent, with one operator able to handle up to 10 cells simultaneously. The automated system delivers machine utilization of more than 97 percent, compared to the 40-60 percent typically achieved in applications with manually operated machines.
The duration of a shift depends on the factory. The modular cell, which includes the best suitable gripper technology, is designed to minimize the machine idle time to 3 percent. When the machine is manually operated, it is very hard to have a utilization rate higher than 40 percent. The work is very repetitive; workers need breaks; personnel are rotated; human errors can occur and there's no constant-speed throughout the shift.
While automated machine tending can substantially improve worker performance, the biggest saving in machine tending is not replacing the humans with robots. The labor cost is just one part of the equation. More important is the ability of machine tending robots to maintain production. For maximum productivity and profitability, the most important part is to increase the machine spindle utilization. Robots are an ideal way of achieving this near constant level of production, with stoppages only ever needed when maintenance is required.
A new vision for automated machine tending
All the variants can be equipped with a vision system that identifies the workpiece's position and gives commands to the robot, machine tools and other cell equipment such as air cleaning stations, part marking, deburring and measurement systems. The vision system can use either a 2D camera or 3D sensor depending on the application.
The FlexLoader M also incorporates data-based optimization features, including remote monitoring, enabling operators to monitor, troubleshoot and optimize their robot systems, while its vision software provides added functions including condition monitoring, fleet management and performance and order management.
The vision system is simply used to give the part's coordinates. For the Random Bin Picking model, more processing is handled by the 3D vision supplier system and integration is needed between the 3D vision system and the ABB software. It will provide a choice of potential parts that are pickable and a choice of how each could be picked. Then the best option is selected. The FlexLoader M does not support visual inspection, but it can be added separately within the cell; the robot removes the part from the machine and then feeds it or presents it to a quality inspection system.
The FlexLoader Vision software can provide all kinds of performance data and fully supports Fleet Management via MS-Azure cloud analytics.
The FlexLoader M series can utilize ABB's Robot Studio off-line programming software, which enables complete cells to be created and tested in a virtual environment before they are built on the factory floor. By enabling users to refine their designs and troubleshoot any issues on a PC or laptop rather than in a real production environment, RobotStudio can minimize disruption to production and help to speed up commissioning and implementation.
In terms of performance monitoring, in addition to the standard dashboard on the cell's HMI, the cloud analytics feature allows customers to monitor the entire fleet in any kind of dashboards they wish. This connection can be restricted within one plant or opened externally for customers to monitor their global operations. ABB has an agreement with Microsoft for cloud services based on MS-Azure.
Find out more
For more information about FlexLoader M, visit the site
Stéphane Jetté is head of global solution centers at ABB Robotics for General Industry. Contact him here.