Our world is three-dimensional, robots and tools need to relate to their surroundings in 3D.
POSTED 02/17/2021
 | By: Øyvind Borgan, SVP Marketing
'I've been in the machine vision industry for 20 years, and I've never seen anything like this.
This is the quote from a first-time Zivid user.
Robots play an increasingly important role in Industry 4.0. Adaptive industrial robots and production lines need human-like vision, and by using an award-winning 3D camera to extract micrometer details and color info in real-time, robots can finally, as a human, monitor, move, and act to complex scenes and target objects. Adding machine vision to robot systems increases the flexibility and possibilities to solve real-world problems
Regular cameras produce a projection of reality as a flat image. This only works for simple tasks, where you for instance always look at a scene from a fixed working distance and at a fixed angle. A regular color image is influenced mainly by perspective, working distance, and environmental conditions like lighting.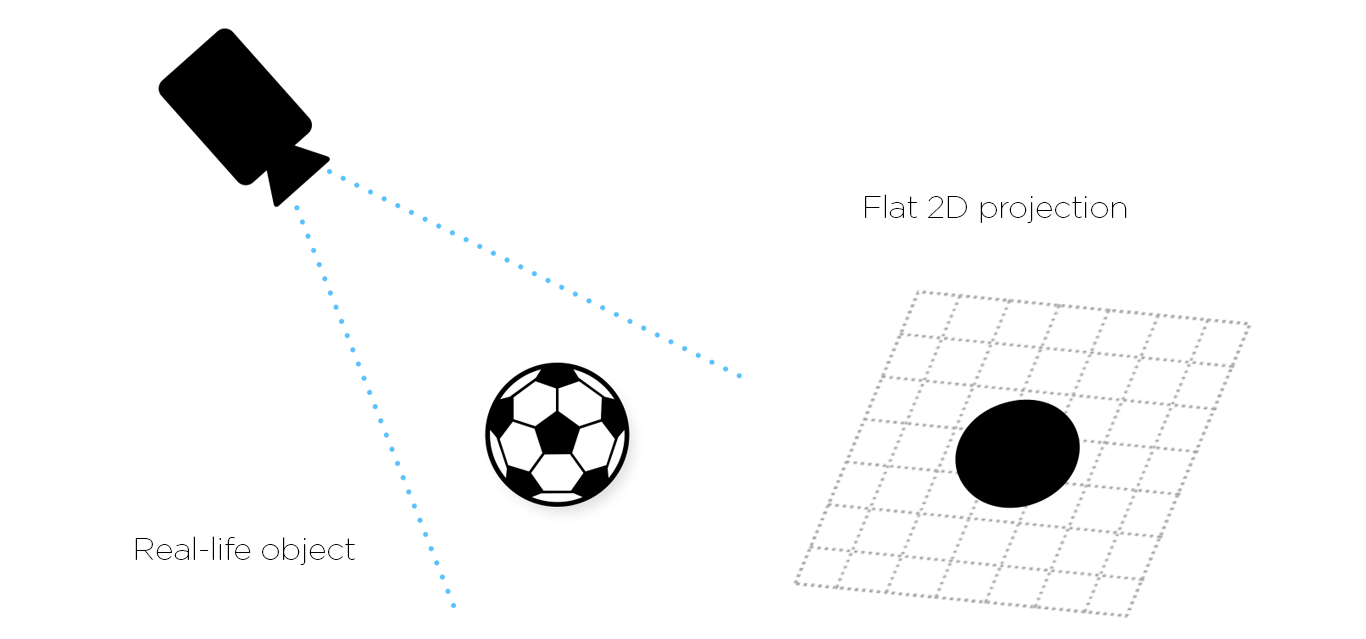 With a 3D camera, you receive an image of the world as X, Y, and Z (XYZ coordinates) directly, typically what you need for industrial automation. This result is mostly independent of the working distance, perspective, or lighting conditions. A 3D image is also suitable for direct comparison against, e.g., a CAD model, which provides a general method for finding discrepancies between a manufactured object and a 3D substrate. Coordinates received from a 3D camera can, for example, be used by machines to measure objects, or be sent directly to a robot and make it go to a specific point and perform an operation.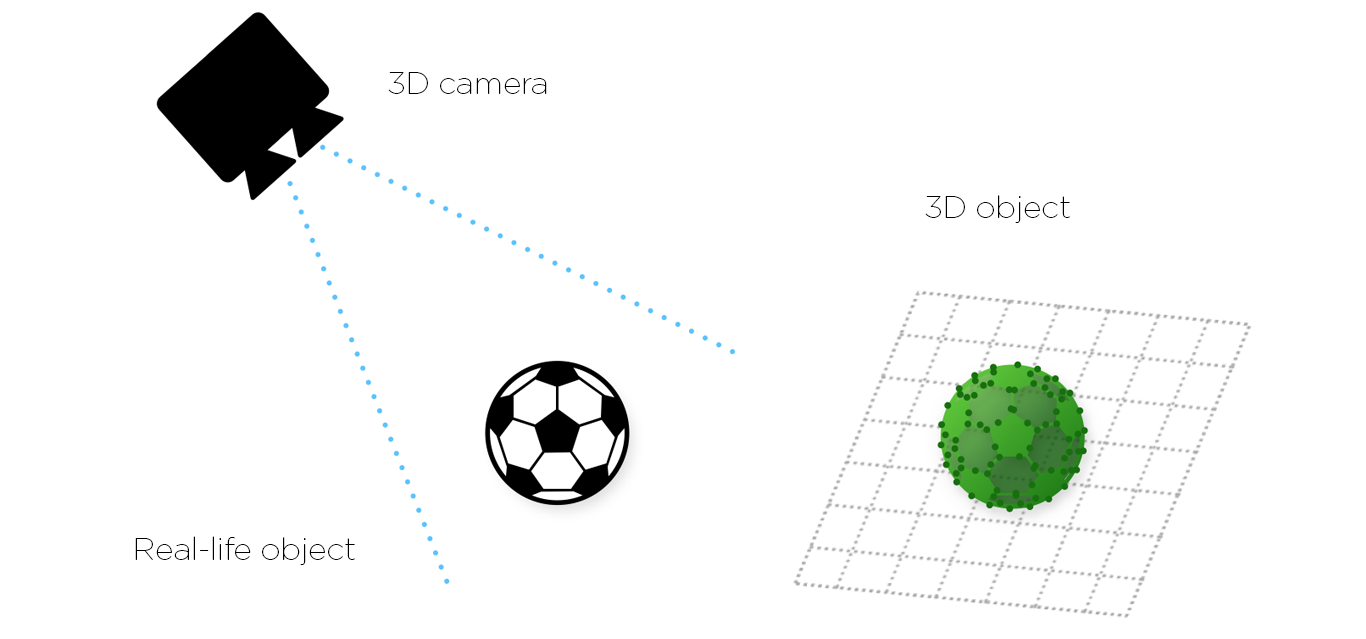 Because 3D cameras provide a real-world representation of the surroundings, you would suspect that choosing a 3D camera is an easy task. However, it can be difficult. Since the data provided are more complicated compared to regular cameras, you should expect more initial settings, resolution, and even color info to consider.
So, what do you need to be able to have machines and robots interact with the real world?
Depending on your application objective, there are a few things you need to consider.
For instance, a larger logistic palletizing system might have completely different speed and range requirements compared to a small bin-picking or assembly solution. If you only need to measure dimensions or inspect quality, the 3D camera can also be stationary.
What size is your object?
Do you produce or need to handle large or small products? Smaller objects typically require 3D cameras that produce high-resolution data. Then you need to consider if your products are stacked nicely, or maybe they are random objects in a bin or tote. If they are, lower resolution cameras might have a challenge in providing reliable data.
What material is your product?
Another thing to remember is that not all 3D cameras handle every material. If you have reflective or dark, absorbing objects, this might cause issues for vision systems. Besides, if you have colored objects, only a few machine vision systems can provide useful data.
Do you have speed requirements?
Finally, you need to understand what speed you want your automated system to have. Because production lines and robots receive processed data and instructions, your 3D vision component must be able to handle data quickly and reliably.
An eye for details
Magazines like Innovation Magazine in Germany and Vision Systems Design in the US, have a global an unbiased view of the machine vision market. Both magazines' independent juries have chosen Zivid One 3D camera as a "Top Innovation" and "Gold Award Honoree" in 2018. Red Dot picked the Zivid One as the best of product design.
Here are some of the reasons why Zivid One 3D camera is a winner;
HD images
Zivid One produces images with full HD, 2.3 MPixel resolution. The working distance is flexible, providing high-resolution XYZ data from 0.5m to over a meter, and high-quality, lower resolution on longer distances.

Real-time processing
With an acquisition rate of more than 10 Hz or 100 ms snapshots, Zivid One supports processing of images for close to real-time applications. This means no compromise between speed and resolution.

Full Color
In addition to high-resolution point cloud XYZ data, Zivid One captures vivid RGB colors with the same sensor chip. Full-color images remove color bleeding or alignment errors and give you a one-to-one correspondence between color and depth.

3D HDR
Zivid One comes with a built-in rapid iris and unique 3D high-dynamic-range mode, which captures high-quality 3D images of even the most problematic industrial objects. Zivid handles shiny metallic, dark, absorbing, or partly translucent objects.

Factory Ready
Zivid One is built to work straight out-of-the-box and arrives pre-calibrated so that you can take it straight to the factory floor. It has air-tight and intelligent cooling and dynamic lighting for texture-less objects.

Quality of Data
The output from a 3D camera needs to be high quality to provide useful data in demanding industrial settings, and with random and challenging objects. Zivid One has built-in proprietary filters to handle these types of objects. It also has ambient light removal features, and 3D HDR, which combined gives system integrators and customers unprecedented data quality.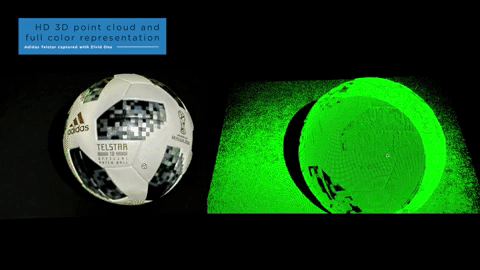 Sophisticated Simplicity
Zivid One is built to make the encounter with 3D cameras less challenging. It arrives with all the items you need to connect to your computer. Zivid Studio is a free tool and user interface which displays the actual image, point cloud, and height map straight from the pre-calibrated camera. Provided software APIs serve as the interface for most major machine vision software, operating systems, and programming languages like C++, C#, .NET.
So, is Zivid One the best real-time 3D color camera for industrial automation?
The experts seem to think so, and if you want a short, online demo session of the Zivid One real-time 3D color camera, feel free to schedule a short online demo!