ISO/TS 15066 Explained
ISO/TS 15066, the world's first specifications of safety requirements for collaborative robot applications, is here at last.
It's been a long journey for the ISO committee containing members from 24 participating countries, including representatives from leading collaborative robot manufacturers, who began work on ISO/TS 15066 back in 2010.
Designed to supplement the requirements and guidance on collaborative industrial robot operation provided in ISO 10218-1 and ISO 10218-2 ('Safety Requirements for Industrial Robots'), ISO/TS 15066 specifies safety requirements for collaborative industrial robot systems and the work environment.
Specifically, ISO/TS 15066 provides comprehensive guidance for those conducting risk assessment of collaborative robot applications.
Crucial new information includes a chart developed by the University of Mainz, which provides a list of force and pressure levels to guide robot design. Additionally, for the first time, ISO/TS 15066 outlines maximum allowable power and speed limits for collaborative robots used in power and force limiting scenarios.
ISO/TS 15066 brings unprecedented clarity to collaborative robot system risk assessments. The document also deepens the level of observation that's required for a collaborative robot risk assessment, improving safety and encouraging safe, future innovation in the process.
As we shall see, the benefits of ISO/TS 15066 will extend from shop floor workers and production managers to application engineers and integrators.
To mark the release of ISO/TS 15066, Robotiq spoke with some of the experts on the ISO committee responsible for developing the technical specification. Leading figures in the world of robot safety, our sources have well over a century of robot safety expertise between them.
This eBook is intended as a companion guide to "How to conduct a risk assessment," which provides detailed information on how to implement the guidelines contained in ISO/TS 15066.
With the help of ISO's experts, we hope to put ISO/TS 15066 in context, explain the difference between a standard and technical specifications, provide some real-world scenarios in which ISO/TS 15066 is relevant, and take a look at some of the benefits that ISO/TS 15066 is expected to bring to various stakeholders.
What's New in ISO/TS 15066?
In collaborative robotics, humans and robots can occupy an overlapping workspace. ISO/TS 15066 provides guidelines for the design and implementation of a collaborative workspace that controls risk.
One of the key ideas behind ISO/TS 15066 is that: if contact between robots and humans is allowed, and incidental contact does occur, then that contact shall not result in pain or injury.
Toward that end, ISO/TS 15066 provides 'Pain Onset Level' data, Maximum Allowable Robot Power/Speed, design criteria, and a deeper explanatio of collaboration techniques.
Crucially, for the first time, ISO/TS 15066 provides those performing risk assessments for collaborative robot applications with hard data and formulae to work with.
Pain Onset Level Data
Researchers at the University of Mainz, in Germany, conducted a pain onset study on behalf of the ISO committee. The study involved 100 subjects and was designed to establish force and pressure limits on 29 body areas.
As a result of the Mainz study, ISO/TS 15066 provides a list of maximum force and pressure levels for each part of the human body.
This data can be used to establish a set of force/pressure thresholds that the robot should not exceed, and is intended to guide robot design and integration.
Maximum Allowable Robot System Power/Speed
ISO/TS 15066 outlines recommended power and speed limits for collaborative robot systems intended for power and force limited operation. This section of the document provides the guidance required to determine the maximum allowable speed to set the robot at, such that the EOAT and part don't exceed the maximum for the robot system.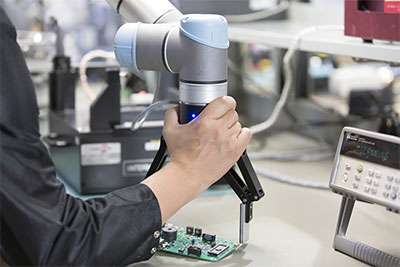 Design Criteria
ISO/TS 15066 describes the different design criteria that robot system and robot tool manufacturers should introduce into their designs. This section provides guidelines for manufacturers that had difficulty distinguishing between what was and what wasn't a collaborative robot system.
Collaboration Operation
Building on the information in ISO 10218, ISO/TS 15066 describes four main techniques for collaborative operation:
safety-rated monitored stop
hand-guiding
speed and separation monitoring
power and force limiting
Speed and separation monitoring receives particular focus. In such systems, a minimum protective distance between the robot system and the person is maintained to prevent contact.
When considering possible contact events between humans and robots, its important to keep in mind that that these can only take place in power and force limited applications. The other types of collaborative operation do not allow physical contact between the moving robot and their human coworkers. Consequently, such events do not need to be considered in risk assessments.
Who Needs to Read ISO/TS 15066?
ISO/TS 15066 is primarily aimed at robot suppliers, integrators, tooling manufacturers, production managers and application engineers. Shop floor workers will probably never need to read it.
A Note on Language
Key words to pay attention to when reading a standard or technical specification document are: "Shall", "Should", and "Can."
The word "shall" is only used when a requirement exists and is being defined.
"Should" indicates a recommendation (also known as "informative guidance"), while "Can" is used as a statement of fact.
Whereas a requirement is normative and mandatory, a recommendation/informative guidance is voluntary.
Putting ISO/TS 15066 in Context : Where does ISO/TS 15066 fit into the world of ISO robotics standards and technical specifications?
ISO/TS 15066's Family Tree
ISO/TS 15066 builds on ISO 10218­1 and ISO 10218­2, which were published in 2011 and describe safety requirements for industrial robots.
Writing the sections on collaborative robotics for ISO 10218 was "almost like writing science fiction," says Dave Smith, a robotics safety expert at Honda Canada Manufacturing, who served on the committees responsible for developing ISO 10218 and ISO/TS 15066.
"We were writing requirements for things that were coming, but we didn't know exactly what they would be. There were a lot of new products out there, particularly collaborative robots and power and force limited robots and we didn't know very much about those robots at that time," says Smith.
Of course, the use of collaborative robotics has become much more widespread since ISO 10218 was released back in 2011. That growth is set to continue with the collaborative robotics sector expected to increase roughly tenfold between 2015 and 2020, reaching over US$1 billion from approximately US$95M in 2015, according to a 2015 study published by ABI Research.
Since 2011, a knowledge base around collaborative robot safety has been built, making it possible to create a set of technical specifications for collaborative robot applications.
"As collaborative robots became more prevalent, we needed to write these technical specifications. We needed to give more detail on ISO 10218's requirements, based on the experience we had all gathered since the first version came out," explains Smith. Page 7 robotiq.com ISO/TS 15066 Explained ISO/TS 15066 is expected to be added to ISO 10218 Part 1/2 where applicable, when the standard comes up for review in 2017.
When the Robotics Industry Association (RIA) first coined the term "collaborative robot" in 2003, they had very different robots in mind, says Jeff Fryman, a robot safety consultant, who served as Director of Standards Development at the RIA for 17 years.
"We were envisioning 'big, bad' six axis articulated robots. The concept of collaborative robot today is far different from our original vision. We did not envision the 'Foxconn' solution of a human­robot­human­robot working on the same line," says Fryman. "ISO 10218­2 talks about the design of collaborative robot cells, but it doesn't have the detail. We hope to fill in that gap with ISO/TS 15066."
Building on Standards
In essence, ISO/TS 15066 is designed to build on and supplement the limited requirements laid out in existing standards.
"ISO 10218 only describes the requirements in very general terms, whereas IS0/TS 15066 provides more guidance," explains Lasse Kieffer, Global Compliance Officer at Universal Robots, who points out that ISO 10218 (Parts I and II) provides just a few pages of requirements for all four types of collaborative operation to which ISO/TS 15066 adds a wealth of new information.
ISO/TS 15066 answers questions that were left open by ISO 10218, particularly those around contact between human and robots, says Elena Dominguez, robot safety expert at Pilz.
"ISO 10218 listed some general safety requirements for collaborative robots, but it was difficult to know whether you were satisfying those requirements."
For power and force limited operation, ISO 10218 requires that contact between human and robot be such that it "should not create an injury," without defining how much force is too much force, how those forces can be measured and what limits should be set.
"ISO 10218 said that you could implement a collaborative robot, but it did not provide enough engineering guidance to know when you were there. ISO/TS 15066 allows an engineer to be more precise in their design and then to legitimately claim that they have achieved the intent of ISO 10218."
While not normative in the way that ISO standards are, ISO/TS 15066 describes the state-­of-­the-­art in collaborative robot safety.
Whether you are an integrator, a production manager, or an application engineer, the new technical specifications provide essential, data­driven information and guidance needed to evaluate and control risks, and support a risk assessment for collaborative robot systems and applications.
This is an excerpt from a 23-page e-book, a complete document with real life examples.