5 Key Benefits of a Real-Time Motion Control Architecture
POSTED 06/05/2018
 | By: Daron Underwood, CTO, Vice President R&D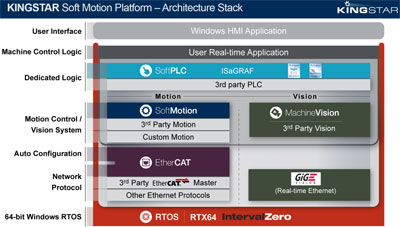 When developing and setting up real-time motion control systems its best to plan an architecture and infrastructure the not only prepares you for today but also for tomorrow. Your real-time architecture therefore has to be flexible and malleable to external and internal changes. Here are some elements to consider when implementing a real-time motion control architecture that can prepare for you today, and the inevitable, even unforeseeable, impact factors of tomorrow.
Scalable
Leveraging software instead of hardware is imperative as its easy to change and make updates to software in a cost effective manner as compared to hardware that is proprietary and expensive and adverse to change. This allows you to accommodate new developments without having to completely dismantle the current system. As such, the system should be compatible to present and future devices such as new servo motors and I/O drives from manufacturers. This will expand the capability of your production systems without necessitating expensive updates.
Cost Effective
Having real-time software with superior performance as your basis for motion control is the only way to cost effective as there is no piece of hardware for motion control that can compete from a cost perspective. It is therefore imperative to leverage an RTOS and software motion control libraries as the means for your motion control strategy. Ultimately your production and operational cost should reduce by doing so.
Efficient Processes
Real-time motion control enhances the efficiency of the processes you engage in. This happens through automation or the use of pre-set scheduling of motion control tasks that can be adjusted. The real-time motion control technology allows you to send multiple commands simultaneously and thus make your operations faster and more efficient. With a shortened production cycle, your goods or products will be received in the market more frequently and you can get your industrial machines faster to market.
Market Recognition
While new products change the way things are run in a market, there is certainty in products that have been tested. Their performance can be ascertained as opposed to those whose performance is unknown. Get a referral or recommendation from a partner, associate, peer, etc… who is running similar processes. Read reviews about real-time motion control systems alongside expert advice on the same. This gives you the insights you need to get the perfect system for your business.
Easy Customization
The ability to 'plug-and-play' motion control libraries of a manufacturer or your own custom motion control application is paramount to experiencing the aforementioned flexibility and freedom. It is the choice to customize that empowers you to build motion control applications that are right for you. Your real-time motion control architecture must be ready to accommodate adjustments that define your specific motion control process and therefore you must choose a motion control architecture that allows for such customization.