Members, login to get great discounts! 
Log In
Robotics Publications
Whether you are new to robotics or an experienced user, you will find valuable robotics resources here. You'll find general reference materials such as the Handbook for Industrial Robotics, as well as technical books and conference proceedings. This is also where you can find valuable industry reports and statistics.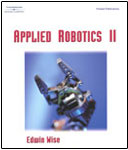 This book is ideal for serious hobbyists with an interest in moving from simple reflexes to autonomous, AI-based robots. This book covers PMDC motor operation; rolling platform design; neural networks; instructions for building specific systems; artificial intelligence; vision and more.
More Information and Price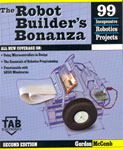 This updated edition of Robot Builder's Bonanza features fascinating science tidbits, field-tested projects, and modular organization to make it easy to invent and build your own designs.
More Information and Price

This hardcover book is clearly written and well-researched. It portrays the development of a service robot from the original idea to the point of implementation. It describes the products available now and predicts what we can expect from service robots in the future.
More Information and Price