Edgewater Automation Service
Assembly Systems
Service Areas: Alabama, Alaska, Arizona, Arkansas, California, Colorado, Connecticut, Delaware, Florida, Georgia, Hawaii, Idaho, Illinois, Indiana, Iowa, Kansas, Kentucky, Louisiana, Maine, Maryland, Massachusetts, Michigan, Minnesota, Mississippi, Missouri, Montana, Nebraska, Nevada, New Hampshire, New Jersey, New Mexico, New York, North Carolina, North Dakota, Ohio, Oklahoma, Oregon, Pennsylvania, Rhode Island, South Carolina, South Dakota, Tennessee, Texas, Vermont, Virginia, Washington, West Virginia, Wisconsin, Wyoming, Canada, Mexico, and International
Edgewater Automation offers engineering, design, development, testing, and installation of all common assembly technologies and processes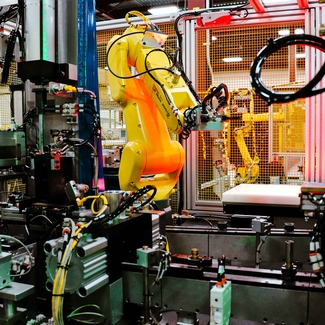 Edgewater Automation offers engineering, design, development, testing, and installation of all common assembly technologies and processes, including assembly classification, torquing, welding, and pressing.
Select Fit Assembly. While Edgewater Automation staffers are experts in the precision manufacturing of equipment and joining systems, many automotive and other parts are put together with "select fit assembly," which involves measuring and gauging individual mass-produced components to find the best mate as part of an automated assembly process. We at Edgewater Automation are experts in high-precision test equipment, such as coordinate measuring machines (CMM) for batch off-line testing, as well as 3D laser scanning, automated optical inspection (AOI), machine vision systems, and other measurement techniques for both off-line and in-line testing as part of a select fit assembly process.
DC Drives and Pneumatic Torquing. Edgewater engineers are experts in dialing in torque actuation forces for your assembly equipment. We start with the nominal calibration factor through dynamic torquing and torque analysis by comparing internal and external torque measurements for verification of your assembly and material handling equipment operation. Whether it is developing the right torque force application method for your assembly operation or designing a cam shaft test system, let Edgewater engineers guide your rotary force torque application.
Ultrasonic, Laser, Resistance. Edgewater Automation has extensive expertise in robotic welding and robotic assembly applications. From qualifying robotic arms against specific MIG, TIG, and other weld gun end-of-arm tooling to detailing the required function pack for the robot to handle all accessory operations, Edgewater engineers can help design, build, and install your next welding application for work cell assembly.