WITTENSTEIN Product
Linear Actuators with Integrated Ball Screw
Model: CDL by WITTENSTEIN cyber motor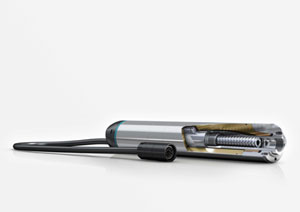 As part of its cyber dynamic line product series, WITTENSTEIN cyber motor has launched a new series of linear actuators designed with an integrated ball screw for use in highly dynamic positioning axes. Ideal for machines operating in confined spaces and requiring high precision, these servomotors feature a precision ball screw fully integrated in the actuator housing. The unique design encloses the servo motor, ball screw, linear guides and encoder system, to form a highly integrated and ready-to-install unit.
This integrated design makes these motors ideal for positioning, joining, bending, gripping and dispensing applications for semiconductor, packaging, and assembly automation industries. The 100% stainless steel design with IP65 protection is designed for food and beverage applications, such as highly precise bottling lines.
Each of the four sizes (outside diameter 17 mm, 22 mm, 32 mm or 40 mm) achieves excellent acceleration values, which can be two to four times greater than current industry benchmarks. This results in increased cycle rates and machine throughputs in a very small space by as much as 400 percent.
The integral design allows for much lower mass of inertia due to the elimination of a coupling device between motor and ball screw. This produces very high power density, which allows for increased throughputs, reduced footprint, greater energy efficiency and overall lowered cost of ownership.
The innovative design can achieve positioning accuracy up to 0.05 mm, and repeatability up to 0.01 mm. In addition, the permanent lubrication makes the units maintenance-free.
When combined with WITTENSTEIN's simco® drives, these linear actuators can easily be integrated in higher control systems through their integrated fieldbus interfaces (Ethernet/IP, CANopen, Profinet and EtherCAT).
Industrial Design Features
Stainless steel housing with IP54 and IP65 protection
EMI shielded single-cable flex robotic technology
Mountable in any position
Maintenance-free ball screw with anti-rotation mechanism and closed thrust tube
The ball screw with reinforced bearings delivers tensile and compressive force
An absolute single-turn encoder with 12-bit resolution is available for all sizes
The market's smallest integrated multiturn encoder available on sizes 32 and 40 (a WITTENSTEIN exclusive)
More reliable and more energy efficient than pneumatic
Unlike pneumatic cylinders, the new linear actuators allow precise and flexible position control regardless of the application without any retooling on the machine. This makes them ideal whenever frequent format changes are required. The servo technology offers better controllability by design; together with the easy connection to a higher-level controller, this facilitates reproducible processes, which can be either stroke or force optimized. The sealed actuators are more energy efficient, quieter and virtually maintenance free when compared to pneumatic systems.
Other Products from WITTENSTEIN