Universal Robots A/S Product
The Universal Robots UR10e is an extremely versatile collaborative industrial robot arm with its high payload (12.5kg) and long reach capability. Its 1300mm reach spans wide workspaces without compromising precision or payload performance. The UR10e is designed to improve a wide range of applications from machine tending to palletizing and packaging in almost any indust .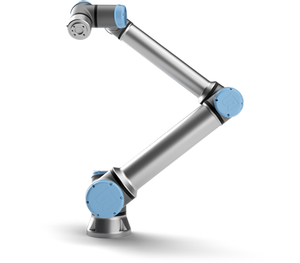 The UR10e is an extraordinarily versatile collaborative industrial robot, delivering both high payload (12.5 kg) lift and long reach (1300mm) makes it well suited for a wide range of applications in machine tending, palletizing, and packaging.
The e-Series family from Universal Robots has four members – the UR3e, UR5e, UR10e and UR16e. Each cobot has a different reach and payload, but they share the same precision, accuracy and dependability that makes them a valuable addition to any production facility. Our cobots are certified by TÜV NORD for ISO 10218-1 and safety functions are rated as Cat.3 PL d according to ISO 13849-1. E-Series cobots can work safely alongside operators on the production line, thanks to built-in and customizable safety features, subject to an application risk assessment. At Universal Robots we make safety central; we explore and experiment with unlimited applications of our cobots to achieve greater productivity and product quality for all industries.
Other Products from Universal Robots A/S