Trio Motion Technology Product
Latest High-powered Motion and Machine Controller
Model: MC664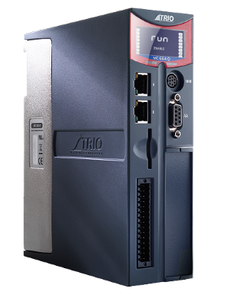 The MC664 is Trio's highest performance and most flexible Motion Coordinator and is based on a powerful Quad Core Cortex A9 1GHz ARM processor.
The MC664 and MC664-X feature a total of 128 axes in software with up to 64 motor axes and 64 bit integer position registers. 64 bit floating point calculations are used for ultra precise axis resolution.
Using expansion modules the MC664 supports up to 64 networked digital drives, 24 analogue servo drives, 25 pulse and direction drives and 25 absolute and incremental encoders.
Every axis can be programmed to move using linear, circular or helical or spherical interpolation, electronic cams, linked axes and gearboxes. The quad core 1GHz processing power allows for multiple robotic transformations to run simultaneously.
Other Products from Trio Motion Technology