Trio Motion Technology Product
Flex-6 Nano EtherCAT motion and machine controller
Model: Flex-6 Nano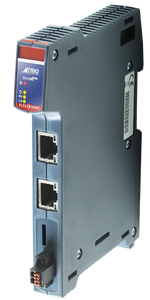 Powerful, compact and flexible, the Flex-6 Nano is an integrated EtherCAT solution offering up to 64 Axes of motion. It is expandable through the matching Flexslice range of Input, Output and Axis modules.
The Flex-6 Nano is a powerful DIN rail mounted stand-alone flexible and compact Motion Coordinator. Its on board memory can be expanded to 32 GByte using a Micro SD card.
The Flex-6 Nano can be used as a stand-alone controller or can "plug" straight into our EtherCAT Flexslice System allowing expansion of the system to include servo and stepper drives, I/O and other functionality that conforms to the EtherCAT standard.
Dual core 1GHZ Arm Processor
2 - 64 Axes
1 GBit DDR3 Memory
Memory can be Expanded with a Micro SD Card
1 GBit Fast Serial Flash Memory to Store Data Such as Programs, VRs and Tables
Built in Retention RTC
Built in EBUS Coupler for Direct Access to Trio's Flexslice Slaves
Cycle Time as Low as 125us!
Field Programmable with Motion Perfect
High Performance, Flexible Topology and Simple Configuration
Bus Cycle Time Synchronised with Motion Coordinator Servo Period
Ethercat Protocol to Individual Modules Using the EBUS System
I/O Functions Tightly Synchronised to Motion Using Ethercat Distributed Clocks
Practical Push-In Connector Options – No Break Out Required
Clip-Together Design With 'Quick Release' Locks For Mechanical Integrity
Other Products from Trio Motion Technology