Trio Motion Technology Product
DX4 AC Servo Drive
Model: D0100 - D0108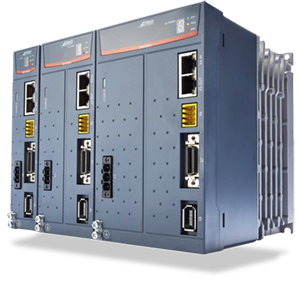 Introducing Trio's solutions with the new DX4 servo drives, our all new drive and motor packages that provide performance and dependability, optimised in every detail to do more with less.
DX4 servo drive and motor packages are optimised in function, performance and features to deliver scalable servo based solutions in demanding motion centric machine automation.
The DX4 comes in 3 frame sizes with power ratings from 50W to 3kW. Designed to be matched with the MX motors and accessories it offers a high-speed, high-precision machine solution.
The DX4 is designed to work seamlessly with Trio's EtherCAT controllers and be fully integrated into Trio's application development tool, Motion Perfect allowing complete machine configuration from one tool; commissioning, diagnostics and programming.
With a focus on ease of use, the DX4 minimises setup time allowing you to focus on your application.
DX4 is fully integrated within Motion Perfect, our single software toolset for system planning, configuration and machine programming.
This new release has been improved to make setup, diagnostics and commissioning even more straight-forward. Built on Trio's Motion-ix core technology, it provides the user with a re designed easy to understand interface for rapid application development, controller and drive configuration and monitoring of functions
Other Products from Trio Motion Technology