SMAC Moving Coil Actuators, Inc. Product
LCR13 Series Linear Rotary Actuator
Model: LCR13

Introducing a new range of electric linear rotary actuator with only 13mm in width. The LCR13 is compact direct-drive brushless servo motor. The precision Z-theta motion within one small actuator, providing a convenient pick, orient and place. The LCR13 has a light moving mass of 95 grams, which results in high accelerations. The vacuum-built-in shaft through the rotary motor is available to prevent dust build-up in the unit. The LCR13 can easily be programmed to control force/torque, position and velocity in all axes at the same time with feedback capability. Patented SMAC's unique "Soft-Land" function enables the unit to gently land on a delicate component with a controlled force to avoid damage of both the component and the pick and place head.
Features
Combined linear and rotary motions in a single unit
Fully programmable in force/torque, position and velocity
SMAC's Patented 'Soft-Land' Technology
Low shaft run-out, 30µm (Lower run-out optional)
Self-lubricated linear guide
Vacuum through shaft prevents dust accumulation
Spring option
Other Products from SMAC Moving Coil Actuators, Inc.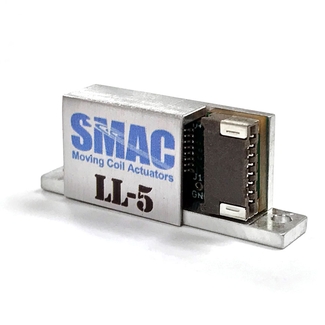 The SMAC LL linear encoder is a miniature non-contacting high-resolution incremental linear encoder, which delivers two count channels in quadrature RS422 output signals. This series is available in 1 and 5 micron resolution. Features Light Source: Light Emitting Diode; Light Sensor: Optical ASIC Resolution after quadrature: 5 and 1 micron Output Format: Differential RS422 line driver output. Two count channels A and B in quadrature with an optional ZR output; Quadrature spec.: 90° ± 45°