Siemens Industry, Inc. Product
SIMOTICS M-1PH8 Asynchronous and Synchronous Motors
Model: SIMOTICS M-1PH8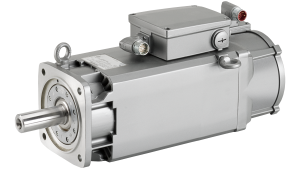 The SIMOTICS M-1PH8 motors are available as an asynchronous and a synchronous variant with forced ventilation or water-cooling methods to provide high power density and maximum thermal utilization over the complete speed range. Precise motion control applications are supported even at the lowest speeds. Application examples are main drives in presses and extruders, converting, spindle drives in machine tools, and rotary axes in the paper and printing industry. Continuous rated power is available for asynchronous variant up to 845 Hp @ 1,350 rpm and synchronous variant up to 416 Hp @ 2,000 rpm.
Benefits
Maximum thermal utilization over the complete speed range with forced ventilation and water-cooling methods
Minimized maintenance costs with up to five bearing types available for high bearing service life
Encoder system available as encoder less, incremental HTL, incremental sin/cos and absolute multiturn to support a wide range of application requirements
Electronic nameplate for quick machine startup
Other Products from Siemens Industry, Inc.