Robotiq Product
Force Torque Sensor FT 300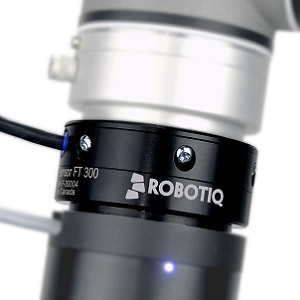 Designed for Universal Robots, the Force Torque Sensor gives your robot the sense of touch.
By installing the Force Torque Sensor on your UR unit, you'll be able to reliably perform the following tasks:
Precision part insertion
Assembly and fabrication
Product testing
Because it's made for Universal Robots, the FT 300 integrates seamlessly and quickly on your existing UR unit:
No coding required: Software plugins and application examples are provided out of the box
No machining required: Embedded mechanical coupling fits perfectly on the Universal Robot wrist
No custom wiring: Easy USB connectivity to the robot controller.
Because it's a digital signal, the FT 300 is not affected by surrounding noise and provides a stable, precise measurement of force applied on the process or part.
Other Products from Robotiq