POSITAL - FRABA Inc. Product
IXARC SSI Absolute and Incremental Encoders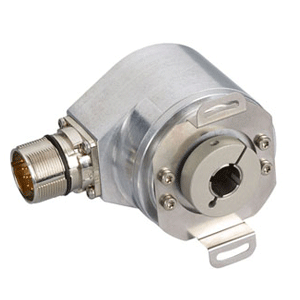 The SSI interface provides users with a very flexible, simple and efficient serial interface. SSI is based on RS422 standards and is an open platform, making it very popular in the automation field. The IXARC SSI encoder has additional options like preset feature for easier installation and alignment, incremental output for extra versatility and strobe output for easy networking of up to 10 encoders to the same data line.

The POSITAL encoders are based on a single turn sensor with a highly integrated Opto-ASIC which provides a resolution of 16 bit per revolution. Additionally, a maximum of 16.384 revolutions (14 bit) can be registered in multi-turn mode. The encoders have a protection class of up to IP66/67 and they can provide differential signal output for environments with low disturbance sensitivity.

Serial interfaces use point-to-point wiring systems, but with a digital interface that connects directly to digital PLC's or microcontrollers. They offer good speed, high resolution, flexible cabling and reliable communication over distances up to a few hundred metres.
Other Products from POSITAL - FRABA Inc.