POSITAL - FRABA Inc. Product
IXARC Parallel Absolute Rotary Encoder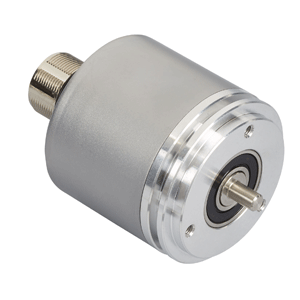 IXARC Parallel Rotary Encoders provide users with a very simple and efficient bit parallel interface allowing for easy installation. This simple interface allows for robust point-to-point communication between encoders and various types of programmable logic controllers (PLC). These encoders are extremely cost efficient and can be provided with customized mechanical options.

IXARC Parallel encoder has a multiturn functionality that can be used to count the number of revolutions along with the position value within one revolution. This encoder comes with a latch functionality allowing the output to remain constant while the sensor turns, for synchronizing with a PLC. This high resolution encoder is extremely useful in keeping entire system costs low and attaching directly to relays for triggering other devices. It's available withGray and binary output codes. Gray code helps reduce errors during data transmission, making almost real time data possible with minimalistic delay.

Parallel encoders from POSITAL have multiple mounting and housing material options that help in customizing the encoder according to the application. Furthermore, IP66/67 protected heavy duty models with a special encapsulated housing are available for use in rugged environments.

Parallel interfaces can provide very high-speed communications over short distances but require bulky cables with individual wires for each bit.
Other Products from POSITAL - FRABA Inc.