POSITAL - FRABA Inc. Product
IXARC EtherCAT Rotary Encoder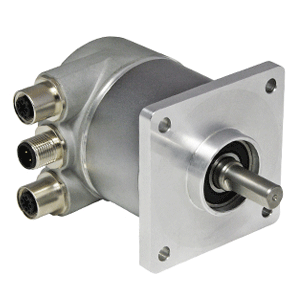 POSITAL's new optical encoders with EtherCAT provide high-speed data for positioning and speed control – they ensure extremely short cycle times of up to 62 µs. Thanks to their distributed clock function, they allow users to synchronize axes with a deviation of <1 µs. The EtherCAT encoders support cable redundancy, thus minimizing breakdown times in case of cable breaks: if special PLCs with two network cards are used, a maximum of one cycle is lost. A round axis functionality enables users to implement applications with non-binary gearing factors (e.g. 6 revolutions).
The firmware can be updated through standard configuration tools such as TwinCAT, with a password protection that restricts access to authorized personnel.
- Extrem kurze Zykluszeiten bis 62 µs
- Firmware-Update mit Passwortschutz
- Bis zu 16 Bit Auflösung und 14 Bit Umdrehungen
- Verschiedenste Flansch- und Wellenausführungen
- Schutzklassen bis IP66, IP67
- Edelstahl und explosionsgeschützten Versionen verfügbar
Fast EtherCAT Encoders
Other Products from POSITAL - FRABA Inc.