POSITAL - FRABA Inc. Product
IXARC DeviceNet Absolute Encoders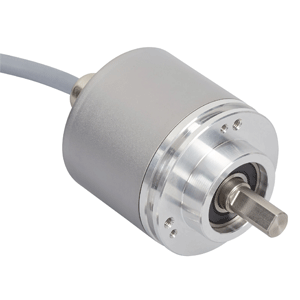 POSITAL DeviceNet encoders are a robust and accurate solution for absolute positioning at a minimum cost. They are an excellent choice for applications such as packing and material handling due to the accurate speed and process control they offer. Compared to traditional wiring options, DeviceNet's fieldbus network allows for efficient wiring and easy communication.
IXARC absolute optical encoders use an integrated Opto-ASIC that provides up to 30-bit multiturn resolution, allowing for precise arm positioning or conveyor control. They are available with more than a dozen different flange configurations, shaft designs, casing options, and electrical connection types. The updated version is available with status LEDs for faster installation and with micro (M12) and mini (7/8") style connectors.
Absolute Positioning on a Budget with DeviceNet Encoders
Other Products from POSITAL - FRABA Inc.