POSITAL - FRABA Inc. Product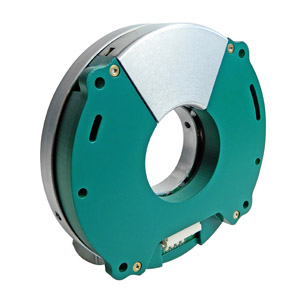 POSITAL has introduced a new family of absolute rotary kit (modular) encoder components for servomotors, stepper motors, robot joints and anywhere else a hollow center design is needed to achieve an optimal mechanical layout. Single and multi-turn variants are available. For multi-turn models, the rotation counter is self-powered, using POSITAL's Wiegand energy-harvesting technology, eliminating the need for backup batteries and reducing maintenance costs.
The new POSITAL hollow shaft kit encoders offer excellent accuracy (+/- 0.02 °) and dynamic response (up to 6000 RPM), making them suitable for use in critical motion control systems. However, what makes them especially useful in many applications is their shape. Both stator and rotor elements are in the form of thin disks with large central openings. This makes them an ideal choice in space-limited situations, such as servomotors, stepper motors or the joints in robotic arms, where it is desirable to have an embedded position sensor fitting around a central shaft, structural component or cable cluster.
These new products use a capacitive measurement system that delivers a high level of accuracy while being relatively insensitive to contamination by moisture or dust. Installation and commissioning are straightforward: a few simple steps and the measuring system is ready for use, no complex calibration procedures required.
POSITAL hollow shaft kit encoders are available in two sizes, with 30 mm or 50 mm internal diameters. Non-proprietary SSI and BiSS C communications interfaces are supported.
Other Products from POSITAL - FRABA Inc.