Parker Hannifin - Motion Systems Group Product
Parker T-Slot Aluminum Design Architect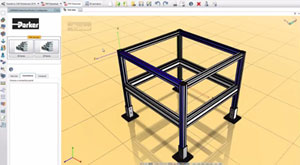 The software takes the challenging task of designing products from T-slot aluminum and makes it as simple as building with snap-together blocks. Available as a free download on the Parker website, the software has been lauded by Parker design centers, professional users, and DIYers for its simple, easy-to-use interface, on-the-fly BOM generation, and instant quote capabilities.
Parker's T-slot aluminum framing is the material of choice for assembling an unlimited variety of bases, frames, linear slide systems, safety guarding, enclosures, worktables, material handling systems, and other structures. The modular T-slot aluminum profile system offers so much flexibility and cost savings in engineering, fabrication, and assembly that it has become the preferred material for a multitude of applications.
Formerly, to design a product with T-slot aluminum, engineers would create the various profiles, connectors, fasteners and accessories within their CAD system. They would then create their design by manipulating each component. Upon completion, they would manually create a bill-of-materials and send to Parker for a quote. If the user did not have CAD access they would often send Parker a "napkin sketch," for the Parker engineering team to interpret, design and quote. This would often require three to five iterations, taking significant time and effort for the customer and the Parker team.
Other Products from Parker Hannifin - Motion Systems Group