Murrplastik Systems, Inc. Product
FHS Flexible Holder Systems for Collaborative Robots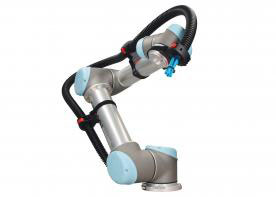 The Murrplastik FHS system has been designed for use with or without additional parts. Two base bodies exist: First, the FHE, in which conduits and cables can be inserted directly. An UHE holder can be mounted optionally. Second, the FHS-SH base body which was designed for use with the system holder SH exclusively.
Buckle straps are used to fix the FHS base body to the robot arm. The buckle strap at the FHS-C, where conduits and cables are inserted directly into the FHE base body, also fixes those and holds them in their position. Based on the low workload and rather low volume of Cobots, the FHS system is designed for the nominal widths 16, 21 and 29. These widths apply for both, direct cable insertion and the installation with conduit holder.
Other Products from Murrplastik Systems, Inc.