Motion Index Drives, Inc. Product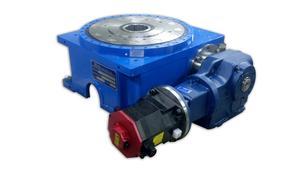 The Motion Index Drives RT Series Fixed Rotary Tables encompass a large range of sizes, ranging from our model RT100 up to our RT1250. In addition, special cam-driven devices can be custom made to order for your automation needs. RT Series Rotary Indexing Tables are offered in a fixed number of stations or as a flexible turntable with a servo motor or standard AC brake motor with encoder. With the addition of Motion's patented NANO Indexer Technology, the RT Series becomes the world's most accurate barrel cam indexers. RT Series indexing tables are constructed with strength and reliability in mind. Robust design and components ensure this device will maintain precision in intense factory settings.
Advantages for design engineers and special machine builders
For mounted accessories over 12 meters
For rapid assembly of small parts, inspection of parts, or for feeding parts into relatively large installations
For use in microelectronics, the food industry and medical technology
All RT Series tables available in fixed or FLEX programmable formats
Advantages for design engineers and special machine builders
Oscillating index operation capabilities
Easy synchronization of other mechanical devices
Large center thru-hole to feed pneumatic, electrical and other lines
Can be used in any mounting position
Technical benefits for users
Technical benefits for users
Extremely reliable with long service lives
High efficiency mechanical components require less input power
Flame hardened cams and cam followers
Internal components immersed in oil bath
Accuracies of up to ±0.008 mm (0.0003")
Most RT Series models maintenance free
Options available
Options available
Reinforced output flange bearing
Custom index and dwell angles
User-controlled stations and timing with the Motion Flex line
Clean room ready with MEDEX Index Drives
Extremely high accuracy applications with NANO Indexer Technology
Other Products from Motion Index Drives, Inc.