Kithara Software GmbH Product
»RealTime Vision«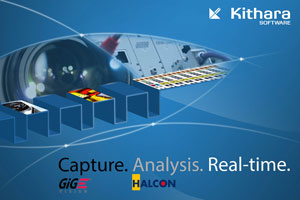 Kithara »Real-Time Vision« allows for real-time capture of image data with industrial cameras according to the GigE Vision® standard. Utilizing large buffer memory along with powerful real-time network drivers, image data can be captured reliably without packet loss, thus providing highly accurate data sets. The reaction to incoming GigE Vision images takes place in the context of the real-time environment within only a few microseconds. For image processing, Kithara »RealTime Vision« also provides image libaries such as HALCON or OpenVC with real-time capabilities. Processed image data can be utilized to immediately trigger real-time tasks in order to execute instant control reactions within EtherCAT-based or CANopen-based automation systems. Real-time image capturing key features:
Image acquisition with GigE Vision cameras in real-time, event- or request-based
Priority-driven preemptive real-time multi-tasking
All GigE Vision compliant cameras supported
Multi-camera-systems supported
GenICam features fully supported
Hot plugging, automatic connection handling, read and write camera memory)
Custom heartbeat timeout; start and stop image acquistion
Extensive streaming options incl. multi-streaming, high-performance acquistion, customizable buffer size and count, missed or incomplete image notification
Real-time image processing key features:
Real-time image processing with HALCON or OpenCV
Processing is done in real-time tasks
Automatic parallelization
instant triggering of control reactions via EtherCAT, CANopen or PLC
A free trial version of the »RealTime Suite« including »RealTime Vision« is available.
Other Products from Kithara Software GmbH