Kawasaki Robotics (USA), Inc. Product
Kawasaki B Series Robots: Fast, Flexible & Fully Optimized
Model: BX100S thru BX300L (100 -300 kg payload)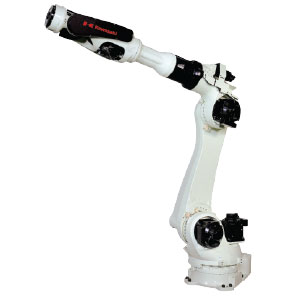 OPTIMIZED BODY SHOP ROBOTS
The B Series body shop robots were developed using Kawasaki's proven advanced technology and extensive automotive experience to take performance to the next level. The robust, yet lightweight slim arm design achieves the sought after optimization of functionality, flexibility and investment efficiency for maximum spot welding effectiveness and multiple-purpose usage.
INTEGRATED DRESS PACKAGE
The B Series robot line is manufactured using hollow reduction units for the upper arm. This allows for an internal dressing of the robot from the base to the tool mounting plate. With Kawasaki's integrated dress package, the manufacturing line build and digital engineering time is greatly reduced and interference with adjacent robots or peripheral devices is minimized.
SPACE SAVING DESIGN
Compared to conventional robots with similar payload capacity, the B Series robots have a much smaller footprint and narrower body. The small footprint of these slim arm design robots allows for installation in "high-density" applications without impeding performance. In addition, the B Series robots house the cable harnesses within the robot arm, further reducing the amount of work space required and minimizing potential interference.
WIDE WORK ENVELOPE
The Kawasaki B robot combines a long reach arm with a minimal amount of dead space for a wide work envelope and greater flexibility. Kawasaki Robotics' years of automotive experience have culminated into an optimal body shop design for both spot welding effectiveness and multi-purpose usage.
HIGH QUALITY & LOW-MAINTENANCE
The B Series robots boast industry leading reliability and 10,000 hour maintenance intervals, which translate to low operating costs and the highest production efficiencies.
HIGH SPEED SPOT WELDING
Minimized net weight, heavy duty motors, and advanced anti-vibration control technology make the B series robots champion sprinters. These features help the robots excel at high speed short-pitch movements making them ideal for spot welding. The improved motion sequence by the servo welding guns, as well as the automatic calibration feature to optimize acceleration and deceleration of the gun speed, leads to a significant reduction in cycle time and results in maximum production.
Other Products from Kawasaki Robotics (USA), Inc.