Kawasaki Robotics (USA), Inc. Product
Arc Welding Robots - Kawasaki BA & R Series Robots
Model: BA (2 models), R Series (5 models)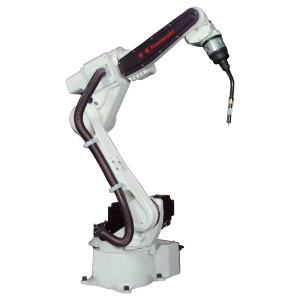 SKILLED AND FLEXIBLE ARC WELDING ROBOTS WITH ADAPTIVE WELDING CAPABILITIES
Kawasaki's BA Series and R Series arc welding robots use the latest arc welding technology to match the quality of an expert welder. The robots are equipped standard with arc welding specific software to enable quick and easy programming of the process path. Adaptive welding functionality is available to modify robot position, weave pattern and speed during welding to fill variable joints. Their built-in intelligence, flexibility and high accuracy make Kawasaki's arc welding robots ideal for a wide range of arc welding applications.
APPLICATION SPECIFIC OPERATION
Each robot is equipped standard with an easy to view and operate color LCD touchscreen teach pendant. The operator teaches the process path using dedicated arc welding teaching screens that are designed for simplified use and easy operation.
WELDING CONDITION DATABASE
During an automated process, the operator can change the welding conditions on-the-fly, and then store these changes to a built-in database. The saved conditions can then be recalled from the database and reused.
REDUCED DOWNTIME
A standard, dedicated start sequence function improves the arc establishment. Also, for weld process faults, the robot includes a restart sequence function to automatically conduct overlap welding and resume the operation.
MANUAL ARC CONTROL
The Kawasaki arc welding robots feature a one button "arc on / arc off" function to allow operators to easily and quickly turn the weld off and on during the automatic weld process. This manual arc control helps operators deal with part anomalies.
ADVANCED TECHNOLOGY
Servo-torch, touch sensing, special weaving pattern, real-time path modification (RTPM) sensor, start-point sensing, multilayer welding function, and auto voltage control (AVC) sensor are some of the advanced arc welding options available with the Kawasaki welding robots.
OFFLINE PROGRAMMING
Kawasaki offers arc welding specific offline programming software to automatically generate robot programs from 3D CAD data. Kawasaki's KCONG software significantly reduces robot teaching time and lowers production costs.
Other Products from Kawasaki Robotics (USA), Inc.