IntervalZero Product
KINGSTAR Soft Motion Platform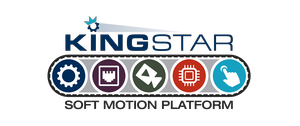 The KINGSTAR Soft Motion Platform is a complete motion control and machine vision platform that creates PC-based machine controllers with premium precision and performance. Built on the EtherCAT standard and enhanced by the power of a real-time operating systems (RTOS) for Windows, you can use a single industrial PC to deliver software-only motion control and machine vision automation quickly and cost effectively
The KINGSTAR Soft Motion Platform is an open and standards-based integrated platform that enables motion control and machine vision engineers to design, develop and integrate motor control applications with KINGSTAR's soft motion library and software PLC. Built on the foundation of EtherCAT and a real-time 64-bit Windows operating system, it provides a complete platform for motion control and automation engineering.
KINGSTAR Platform Products
KINGSTAR Soft Motion is a software-only PC solution that replaces costly motion control boards such as those from ACS Motion, Aerotech, Galil and others. KINGSTAR Soft Motion further lowers the total cost of a machine by supporting EtherCAT. Design, develop and integrate motion control applications with software-only, PC-based controllers for industrial control and automation engineering. Engineers can customize the control system for their machine without facing the challenges of engineering real-time control threads required for high-speed precision
KINGSTAR EtherCAT - Interchange any servo drives and I/O devices to auto-configure EtherCAT network for simplified high-precision application development
KINGSTAR Machine Vision powered by Matrox - Develop machine vision, image analysis and medical imaging applications with a comprehensive imaging library for prototyping to deployment
KINGSTAR Soft PLC powered by ISaGRAF - Enable your industrial PC to utilize its available resources to handle all motion and vision control processes in real time by transforming it into a software machine controller
IntervalZero RTX64 - Transform and extend Windows into a real-time operating system to create dedicated real-time processing applications and DLLs
KINGSTAR products consist of pre-tested, pre-integrated software components that are critical for assembling a Windows-based, EtherCAT-enabled machine control for equipment that requires motion or position control.
Customers build the sequence of machine-specific commands, submit the commands to the motion control algorithms via an API, and tailor a Human Machine Interface (HMI) in order to complete the process of building a full-function PC-based machine controller. The rest of the infrastructure: real-time motion control algorithms, the EtherCAT Master, communications protocols, and servo configurations are automatically handled by the KingStar Framework.
Engineers work exclusively in Windows in the "Open Loop" process and submit one or more commands to the motion kernel API, which handles the rest of the "Closed Loop" processing.
Benefits
Replaces expensive motion control hardware with lower cost motion software
Provides APIs compatible with popular hardware motion cards
Contains EtherCAT master and EtherCAT configuration wizard
Replaces proprietary network protocol and IO hardware with EtherCAT standard
Enables use of EtherCAT-based servos which also offer lower cost
Other Products from IntervalZero