IntervalZero Product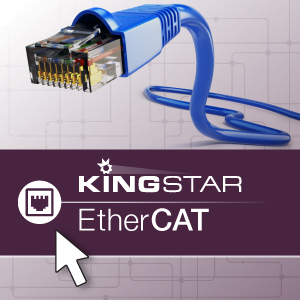 With the agility of auto-configuration, flexible integration, and premium performance and quality, KINGSTAR EtherCAT delivers tailored motion control at half the cost and time.
Simplify and Support EtherCAT Network Configuration and Development
KINGSTAR EtherCAT exposes the real-time interface that allows motion or vision control engineers to integrate their own motion control algorithms or software with an EtherCAT network. Auto-configure any EtherCAT servo or I/O device for plug-and-play compatibility. EtherCAT provides highly customizable motor and vision control with precision performance, at an affordable price.
Balance Flexibility and Performance with KINGSTAR EtherCAT
If you choose to develop your own motion control algorithms but still use EtherCAT to simplify and support your network configuration, KINGSTAR EtherCAT is the way to go. Because KINGSTAR supports EtherCAT, you can use Ethernet cables to connect EtherCAT-enabled servo drives to your PC, and KINGSTAR will auto-configure the complex EtherCAT settings for you. You no longer need a physical PLC; the PLC software bundled with KINGSTAR can not only define the logic of devices on your PC, but control the input and output of devices through the EtherCAT connection.
Other Products from IntervalZero