Industrial Safety Controls Inc Product
Dold Standstill/Speed Monitoring Safety Relays
Model: Speed monitors - safe and convenient standstill and speed monitoring, optionally also without sensors - SAFEMASTER S
Safe standstill and speed monitoring - Safe sensorless standstill monitoring - Safe sensorless frequency monitoring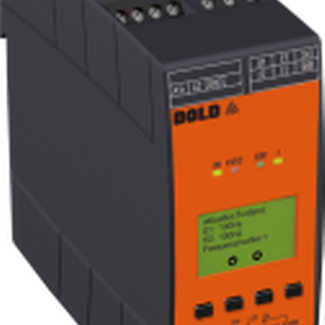 Safe standstill and speed monitoring with initiators (proximity switches)
Standstill and speed monitor - SAFEMASTER S
The standstill and speed monitors are used for safety-related detection or monitoring of a standstill and additionally for monitoring a set speed window (lower and upper speed limit) in setup or automatic mode. To detect standstill or the speed of the motor, the speed (frequency) is measured by means of two NPN or PNP proximity switches (special design variant with NAMUR sensors) or via encoders (sin/cos, TTL, HTL) with two signal tracks. A combination of encoder and one NPN or PNP proximity switch is also possible.
Safe sensorless standstill monitoring
Standstill monitor - SAFEMASTER S
The safe sensorless standstill monitors of the SAFEMASTER S series detect the standstill of 3-phase and 1-phase motors independent of the direction of rotation. Otherwise required sensors, such as encoders or proximity switches, are not required. Access to the hazardous area of a system is only granted by the enable signal of the standstill monitor after the drive has been switched off and coasting. To detect a standstill, the remanence voltage induced by the motor windings is evaluated and thus offers safe standstill monitoring up to Cat. 4 / PL e or SIL 3, even if the motor has already been switched off.
Safe detection of standstill, e.g. for:
Safety circuits according to IEC / EN 60204 in plants with dangerous machine parts or tools, e.g. for the release of protective devices
Avoidance of machine damage when unexpected running in the process can lead to collisions
Motor controls with reversal of direction of rotation
Safe sensorless frequency monitoring
Frequency monitor - SAFEMASTER S
The speed and frequency monitors monitor frequency-controlled drives without sensors and safely up to 690 V. Sensorless frequency monitoring eliminates the need to install additional proximity switches or initiators. The frequency monitor thus creates new possibilities for design, planning and retrofitting, even for larger machines and systems, e.g. in woodworking or machine tools.
The frequency monitors are used for safety-related detection or monitoring of overfrequency, underfrequency or for monitoring a set frequency window. In case of deviations or violation of the set window range, the frequency monitor switches off safely and shows its strengths compared to frequency inverters with integrated safety functions when simplicity, flexibility and safety are required in equal measure.
Standstill and speed monitors Safety functions according to DIN EN 61800-5-2
According to the new Machinery Directive, the operating state of a drive must be safely monitored and maintained when it is stopped. Typical applications include the release of safety gate interlocks after the standstill of the hazardous movement has been detected, as well as working with open guards and reduced speed during machine setup operation. With its extensive product range of sensorless standstill monitors, Dold already offers a convenient solution for safe standstill monitoring (UG 6946).
With appropriate wiring, the safety functions STO (safe torque off), SOS (safe operating stop), SLS (safely-limited speed), SSM (safe speed monitoring) and SSR (safe speed range) can be implemented. SAFEMASTER S series standstill and speed monitors offer maximum safety up to Cat. 4 / PL e or SIL 3.
Safety functions according to DIN EN 61800-5-2
Other Products from Industrial Safety Controls Inc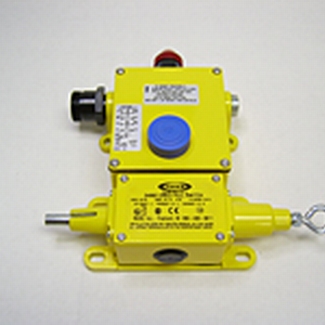 The following "taut cable" style switch has 2 NO and 2 NC contacts with Positive Break and Positive Transfer features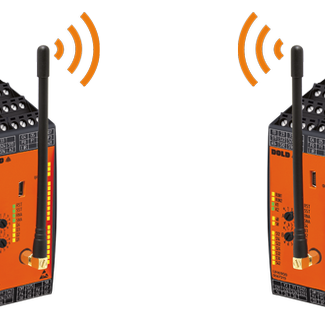 SAFEMASTER W – Radio Controlled Safety System, Wireless Functional Safety in pair mode