Harmonic Drive LLC Product
Mini Solid Shaft Actuators
Model: RSF Mini Actuator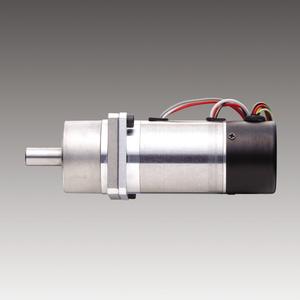 These brushless servo actuators utilize zero backlash Harmonic Drive® precision gears with an AC servomotor. Available in 3 sizes, these brushless servo actuators deliver exceptional positioning accuracy in a compact package. Peak torque 34~330 Nm, max speed 45~90 rpm. The RSF Mini actuators are ideal for small robot joints as well as semiconductor and LCD manufacturing equipment.
These brushless servo actuators utilize zero backlash Harmonic Drive® precision gears for precise motion control. The RSF Mini Series is designed to operate with a wide range of third party drivers as well as Harmonic Drive LLC's DCJ Series, DDP Series, DEP Series, and HA680 drivers.
Key Features:
Zero backlash
Exceptional positional accuracy
Compact design
High rotational accuracy
High resolution
Easy-to-operate dedicated driver
Extremely customizable
About Harmonic Drive LLC
Harmonic Drive, LLC engineers and manufactures precision servo actuators, gearheads and gear component sets. We work closely with both Fortune 500 and companies of all sizes to understand their application requirements and provide a standard or custom-engineered solution to enable the success of their design project. The majority of the products sold by Harmonic Drive, LLC are proudly made at our manufacturing facility in Peabody, Massachusetts. Harmonic Drive Group Companies in, Japan (Harmonic Drive Systems, Inc.) and Germany (Harmonic Drive AG) provide additional products. We have shared core values, product designs and quality standards. State of the art manufacturing facilities in the US, Japan and Germany enables us to locally serve the needs of our global customers.

With over 50 years of experience, our expert engineering and production teams develop enabling technologies and products to meet the needs of an evolving motion control market. We are very proud of our outstanding company history. Our high-precision, zero-backlash Harmonic Drive® gears and Harmonic Planetary® gears have, and continue to play critical roles in robotics, spaceflight applications, semiconductor manufacturing equipment, factory automation equipment, medical diagnostics and surgical robotics. More information can be found by visiting the company's website at www.harmonicdrive.net
Harmonic Drive is a registered trademark of Harmonic Drive Systems.
Other Products from Harmonic Drive LLC