ElectroCraft Inc. Product
CompletePower™ Plus Universal Drive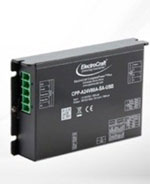 ElectroCraft, Inc., the global fractional horsepower motor, and motion solutions provider, has expanded their CompletePower™ Plus family of BLDC motor drives offering with the CompletePower™ Plus Universal Drive. The Universal Drive takes performance, efficiency and flexibility to the next level, utilizing state-of-the-art digital drive technology combined with an intuitive and highly configurable user interface. The CompletePower™ Plus comes in three standard capacities with customized options available for OEMs.

CompletePower™ Plus Universal Drive
"ElectroCraft has added a key new offering to their digital drive family with the Universal Drive," notes Scott Rohlfs, Director of Product Marketing. "This exciting new platform provides the flexibility, ease of use, performance and customization capability that our OEM customers require, and it is an important component of a complete motion solution from ElectroCraft."
Universal Drive Highlights:
Driven by design to be one of the most space efficient, low voltage, digital servo drives available.
Utilizing the latest in digital drive architecture to provide software selectable velocity or torque control modes.
Compatible with Brushless motors from 12 to 80 VDC and up to 24A continuous, 60A peak current.
Sine-wave commutation using either hall sensor or encoder feedback provides smooth torque for demanding motion control requirements.
Advanced Field Oriented Control provides high dynamic response resulting in a robust motor controller with low torque ripple that produces smoother, more efficient motion!
Easy setup and configuration via USB interface with the ElectroCraft CompleteArchitect™ Windows-based software.
Other Products from ElectroCraft Inc.