Custom Machine and Tool Co. Inc. Product
7 Reasons to Choose the Concentric Maxi Torque Keyless Hub to Shaft Connection System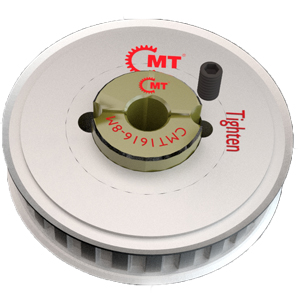 7 Important Reasons to Choose the Concentric Maxi Torque
The Concentric Maxi Torque is a unique bushing connection system. A single screw locks the low taper angle split bushing in place and eliminates all of the existing attachment issues. Custom Machine and Tool Co., Inc. will demonstrate the benefits of the revolutionary keyless hub-to-shaft connection system in Chicago at Automate 2017.
1. Improved hub-to-shaft concentricity.
The patented Concentric Maxi Torque Connection system offers tight run out control, precise component positioning and eliminates the need for secondary machining; benefits not in other connection devices such as keyways, set screws, pins and clamp collars.
2. Speed and ease of assembly.
Insert bushing, insert screw, position shaft and torque to proper rating.
3. Provides uniform surface contact.
Ideal for applications requiring high-speed indexing and reversing, rotational positioning accuracy, multiple assembly disassembly high reliability with minimal maintenance.
4. Reduced inertia.
As the machine speeds and indexing requirements continue to increase, reduction in inertia and vibration becomes important. Reduced inertia results in increased power savings.
5. Compact design.
Keyways require additional machining of the shaft adding cost and time. The Concentric Maxi Torque offers a compact design and a single screw eliminates the added cost of shaft modification and extended hubs often associated with the use of set screws or pins.
6. Lower maintenance costs.
Mechanical shrink fit providing uniform surface contact ensures no relative movement or loss of torque capacity over extended periods, reducing machine down time and maintenance costs.
7. Various bore sizes.
Twelve sizes cover bores from inches 0.1250 (3mm) to 1.1875 inches (30mm) and torque capacities from 14 in-lbs (4Nm) to 2795 in-lbs (375Nm). Up to 15 English and Metric bore sizes per bushing size help lower inventory costs by enabling the same component to be used on multiple shaft diameter applications.
Custom Machine & Tool Co., Inc. (CMT) has been a US manufacturer of precision timing pulleys, drive systems and components for the motion control and power transmission markets since 1964. In addition to the Concentric Maxi Torque connection system, our product offering contains all types of popular timing pulley tooth designs including:
Trapezoidal Profiles: 40 DP (.0816"), MXL (.080"), XL (.200") L (.375") and H (.500")
HTD metric curvilinear profiles: 3MM, 5MM, 8MM, 14MM
Gates PowerGrip® GT®2 (PGGT) Profiles: 2MM, 3MM, 5MM, 8MM
Goodyear SuperTorquePd®: 3MM, 5MM, 8MM
Gates Poly Chain® GT®2 (PGGT): 8MM
Metric Profiles: T2.5, T5, T10, T20
AT Metric Profiles: AT3, AT5, AT10, AT20
Gears up to AGMA Quality 8, 8-64 DP, .5-2 MOD
Various Sprockets - #25 to #60 Chain
We can provide these precision timing pulleys in all industry standard belt widths and any custom belt width desired. Zero backlash option also available.
CMT's state-of-the-art manufacturing facility provides a full range of timing pulleys, timing pulley stock, and timing pulley flanges in aluminum, steel, stainless, plastic, brass and bronze for both stock and custom applications. Along with being an authorized Gates belt distributor, CMT is your one-stop shop in order to meet all of your motion control and power transmission needs!
Other Products from Custom Machine and Tool Co. Inc.