ACS Motion Control Product
UDI – Commans Closed Loop Motor Drives with ±10V Interface
Model: HP or LT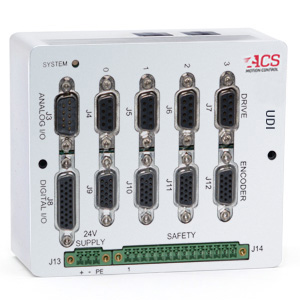 The SPiiPlusUDI (UDI - Universal Drive Interface) is a compact EtherCAT module that controls up to 4 motor drivers with ±10V analogue interface. It supports both torque commands (single ±10V differential signal per axis) and sinusoidal commutation current commands (two ±10V differential signals per axis). It includes 4 incremental encoder and 2 absolute encoder interfaces, safety limit inputs, 4 registration inputs, 4 24Vdc/0.2A brake control outputs and one PEG (Position Event Generator) output.
The servo update and sampling rate is always 20kHz. The UDI is available in two versions:
• SPiiPlusUDl HP - high performance version
• SPiiPlusUDl LT - economical version
The UDl LT utilizes a 10 bit DAC to generate the ±10V commands and supports digital encoders only (both incremental and absolute). The UDl HP utilizes a 16 bit DAC to generate the ±10V commands and it also supports fast analog SIN-COS encoders with raw frequencies up to 5MHz. This enables running stages using high resolution laser encoders with sub-nanometer resolution at more than 1 meter/second.
Other Products from ACS Motion Control