ACS Motion Control Product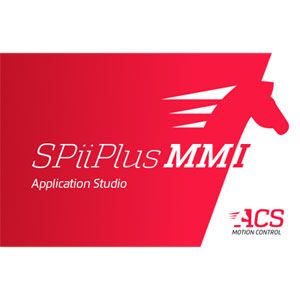 ACS Motion Control is pleased to release SPiiPlus ADK software version 2.40 for all ACS' products.
SPiiPlus ADK v2.40 features an updated MMI Application Studio with enhanced diagnostics capabilities, new ACSPL+ functions & variables, updated ACSPL+ commands & functions, and support of new products.
New Products Supported
SPiiPlusES: High Performance Multi-Axis Controller with Built-in EtherCAT® to EtherCAT® Bridge
IOMPS: Digital and Analog EtherCAT® I/O Modules
Soon to be released
SPiiPlus ADK New Capabilities and Features
SPiiPlus MMI Application Studio

Can be launched in non-administrator mode.
A compilation timeout parameter added to the Communication dialog.
Backup functionality added for System Setup tasks.
An error classification popup window opens displaying the error classified according to the error source module (EtherCAT, libraries, etc.).

Enhanced Diagnostics Capabilities:

Crossed EtherCAT cables detection.
Improper configuration detection as part of ENABLE process.
The size of #LOG report is increased from 500 to 1000 events.

ECREPAIR process is improved to protect the motor commutation and homing.
ENABLE process is enhanced with new protection mechanisms.
PM products – 10MHz SIN-COS encoders are now supported for the secondary feedback channels.
Documentation
New Documents
SPiiPlus ADK Suite v2.40 Release Notes
Product Guides: SPiiPlusES, IOMPS
Softtware Guides: SPiiPlusES User Guide
Application Notes: SPiiPlusES TwinCAT Communication
Updated Documents
ACSPL+ Programmer's Guide
GSP_G&M Codes Extension to ACSPL+ Reference Guide
SPiiPlus C Library Programmer Guide
SPiiPlus COM Library Programmer Guide
SPiiPlus Command & Variable Reference Guide
SPiiPlus MMI Application Studio User Guide
SPiiPlus .NET Programmers Guide
SPiiPlusSC Installation
The SPiiPlusSC Soft Controller Installation software V2.40 is now available on a USB flash disk, as an optional accessory.
PN: SPiiPlusSC-FW-USB

Updated Documents
SPiiPlusSC User Guide
SPiiPlusSC Setup for WinXP
SPiiPlusSC Setup for Windows 7-8-10
SPiiPlusSC Silent Installation Guide
SPiiPlusSC Troubleshooting Guide
Other Products from ACS Motion Control