Vecow Launches 11th Gen Intel® Workstation-grade AI Computing System RCX-2000 PEG Series
New Taipei City, Taiwan - Vecow Co., Ltd., a team of global embedded experts, announced the latest AI Computing System RCX-2000 PEG. Powered by workstation-grade 11th Gen Intel® Xeon®/Core™ i7/i5 Processor (Rocket Lake-S) and Integrated with NVIDIA® Tesla®/Quadro®/GeForce®/AMD Radeon™ Graphics, Vecow RCX-2000 PEG provides advanced computing capability and flexible expansion for ease deployment of edge AI applications including High-Speed AOI, Rolling Stock, 3D Mapping, AI Inference for Autonomous Driving, Medical Imaging and any AIoT/Industry 4.0 applications.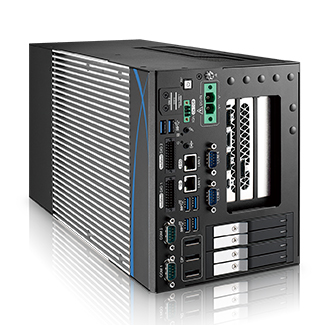 Vecow RCX-2000 PEG demonstrates a high-performance, compute-intensive and powerful graphics solution for diverse AI applications. The RCX-2000 PEG AI Computing System is based on 11th Gen. Intel® Xeon®/Core™ i7/i5 Processor that supports 8 cores and runs on Intel® W580 chipset, delivering up to 19% CPU productivity improvement, and it supports enhanced Intel® UHD graphics featuring Intel® Iris® Xe Graphics architecture and offers excellent visual experience with up to 4K HDR.
Vecow RCX-2000 PEG provides a variety of interfaces including 2 GigE LAN, 6 USB, 4 COM, 3 SIM and 4 SSD tray for storage. Featuring flexible expansion functionality, RCX-2000 PEG allows 3-slot NVIDIA or AMD graphics card with up to 750W power budget to accelerate the power of AI technology. To facilitate a wide array of embedded use cases, Vecow RCX-2000 PEG includes high-speed connectivity such as USB 3.2 (10G), PCIe 4.0 (16T/S), SATA III (6G) and GigE LAN (2.5G).
"Vecow RCX-2000 PEG is a brand new AI Computing System that provides variant features and meets requirements of industrial applications, "said Shally Tsou, Product Manager, Embedded Systems & Platform Division at Vecow. "RCX-2000 PEG delivers a combination of ignition control, surge protection and powerful computing performance that not only meets requirements of EV applications but also many other industrial environments like Rolling Stock, and High-Speed AOI"
"We are excited to introduce the first PEG product powered by 11th Gen Intel Platform to our partners," said Joseph Huang, Sales Manager, Sales & Marketing Division at Vecow. "Vecow RCX-2000 PEG supports must-have features with a reliable and ruggedized design. By bringing RCX-2000 PEG to market, Vecow is giving our customers a flexible choice and innovation to further accelerating the implementation of edge AI applications."
To learn more about AI Computing Sytem, please visit the RCX-2000 PEG product page or www.vecow.com for more details.
About Vecow
Vecow is a team of global embedded experts and we aim to be your trusted embedded business partner. Vecow is committed to designing, developing, producing, and supplying high quality AIoT solutions with trusted reliability, advanced technology, and innovative concepts. Our products include: AI-ready Inference Systems, AI Computing Systems, Fanless Embedded Systems, Vehicle Computing Systems, Robust Computing Systems, Single Board Computers, Multi-Touch Computers/Displays, Frame Grabbers, Embedded Peripherals and Design & Manufacturing Services for Machine Vision, Autonomous Car, Robotic Control, Rolling Stock, Public Surveillance, Traffic Vision, Smart Automation, Deep Learning, and any AIoT/Industry 4.0 applications.