Robotic Industries Association Announces New Alliance with OSHA, NIOSH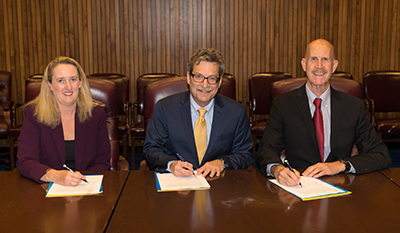 ANN ARBOR, MICHIGAN – The Robotic Industries Association (RIA), North America's leading robotics trade group, signed an alliance partnership today with the Occupational Safety and Health Administration (OSHA) and the National Institute for Occupational Safety and Health (NIOSH). OSHA has established alliances with a number of industry groups to share expertise and knowledge about safety practices in the industries involved. The OSHA/NIOSH/RIA Alliance will focus on communication and education about best practices in robot safety.
"RIA has a long history of helping to keep around industrial robotics," said Jeff Burnstein, President, RIA. "We developed the first American national robot safety standard, R15.06, in 1986 and we've kept it up-to-date since then. This new alliance with OSHA and NIOSH will help us to continue advancing worker safety as more robots enter the workplace."
The goals of the OSHA/NIOSH/RIA Alliance are enhancing technical expertise about robotics within OSHA and NIOSH; improving awareness of workplace hazards associated with traditional industrial robots and the emerging technology of human robot collaboration (HRC) installations and systems; and identifying research that may be needed to help reduce workplace hazards.
"The robotics industry has a great track record of safety dating back to 1961 when the first industrial robot was installed," said Carole Franklin, Director of Standards Development, RIA. "We're trying to make sure every integrator and user of robotics in the country is aware of the best practices described in our R15.06 standard. This new partnership with OSHA and NIOSH will certainly help us in that effort."
The Alliance will foster technical exchange and information sharing among RIA members, OSHA, NIOSH, employers, and workers concerning hazards that may be present around industrial robot systems. It will also facilitate the sharing of information about how best to control exposure to such hazards during operations involving human interaction with the robotic systems in workplaces. Alliance participants will collaborate to develop technical training, resources, and tools for OSHA staff, NIOSH researchers, employers, and workers.
About Robotic Industries Association (RIA)
Founded in 1974, RIA is a not-for-profit trade association driving innovation, growth, and safety in manufacturing and service industries through education, promotion, and advancement of robotics, related automation technologies, and companies delivering integrated solutions. RIA represents some 450 robot manufacturers, system integrators, component suppliers, end users, consulting firms, research groups, and educational institutions. The association hosts a number of educational events including the National Robot Safety Conference (October 10–12, 2017, in Pittsburgh), the Collaborative Robots & Advanced Vision Conference (November 15–16, 2017, in San Jose), the A3 Business Forum (January 17–19, 2018, in Orlando), and the biennial Automate Show & Conference (April 8–11, 2019, in Chicago). RIA also provides quarterly robotics statistics and has a content-rich website, Robotics Online. For more visit the website or call 734-994-6088.
About Association for Advancing Automation (A3)
The Association for Advancing Automation (A3) is the global advocate for the benefits of automating. A3 promotes automation technologies and ideas that transform the way business is done. A3 is the umbrella group for Robotic Industries Association (RIA), AIA - Advancing Vision + Imaging, and Motion Control & Motor Association (MCMA). RIA, AIA, and MCMA combined represent over 1,060 automation manufacturers, component suppliers, system integrators, end users, research groups and consulting firms from throughout the world that drive automation forward.