RIA Launches Redesigned Website and New Logo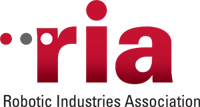 The Robotic Industries Association (RIA), the trade association for the North American robotics industry, has launched a completely redesigned website. Robotics Online, the online resource for robotics which has more than 330,000 visits each year, has been extensively updated with a new look and navigation capabilities. In conjunction with the updated website and in celebration of the organization's 40th anniversary, RIA has also unveiled a new logo.
"The new RIA logo refreshes our brand while sticking to our roots of being the robotics industry advocate for over 40 years," said Jeff Burnstein, President of RIA. "The design reflects how we strive to connect the robotics and automation community around the world through education, promotion and advancement of robotics, related automation technologies and companies delivering integrated solutions. We're excited about the fresh new approach to our website and our updated look."
"The new Robotics Online is a much improved experience for visitors," said Bob Doyle, Director of Communications at RIA. "Navigation has been updated so that users are only a click away from the information they are looking for. Search capabilities have been greatly enhanced, along with a 'Browse By' function, so users can quickly find the products, companies, and services that meet their needs. The rotating home page graphic will highlight the most important upcoming events, educational opportunities and news that the robotics industry needs to know.
"The Industry Insights articles will continue to provide the latest in-depth news on the robotics industry," Doyle added. "Member news will always be prominently displayed on the home page, along with upcoming educational information, webinars and events that will keep you abreast on the latest advances in the industry."
Other updates to the website include:
For RIA members, company profile pages have been enhanced so that website visitors can easily find pertinent and relevant information on member products and services.
New advertising options are available for advertisers, providing more options to reach their target market.
Users can also now sign-in to the webpage, allowing them to personalize their experience on the site.
The new website makes it easy to interact with RIA via social media channels, as well as the ability to "share" information.
And finally, the new Robotics Online has been made mobile friendly allowing access to important robotics information while on the go.
About Robotic Industries Association (RIA)
Founded in 1974, RIA is a not-for-profit trade association dedicated to improving the regional, national and global competitiveness of the North American manufacturing and service sectors through promotion and enhancement of robotics and related automation. RIA represents 325 robot manufacturers, system integrators, component suppliers, end users, consulting firms, research groups, and educational institutions. The association hosts a number of events including the International Collaborative Robots Workshop (September 30, 2014 in San Jose, California), the National Robot Safety Conference (October 14-16, 2014 in Ann Arbor, Michigan), the Robotics Industry Forum (January 21-23, 2015 in Orlando, FL) and the biennial Automate Show & Conference (March 23-26, 2015 in Chicago). RIA also provides quarterly robotics statistics and has a content-rich website, Robotics Online. For more details on RIA, visit Robotics Online or call 734/994-6088.
About Association for Advancing Automation (A3)
The Association for Advancing Automation is the global advocate for the benefits of automating. A3 promotes automation technologies and ideas that transform the way business is done. A3 is the umbrella group for Robotic Industries Association (RIA), AIA - Advancing Vision + Imaging, and Motion Control Association (MCA). RIA, AIA, and MCA combined represent 750 automation manufacturers, component suppliers, system integrators, end users, research groups and consulting firms from throughout the world that drive automation forward.

For more information, please visit our websites: A3; RIA; AIA; MCA.